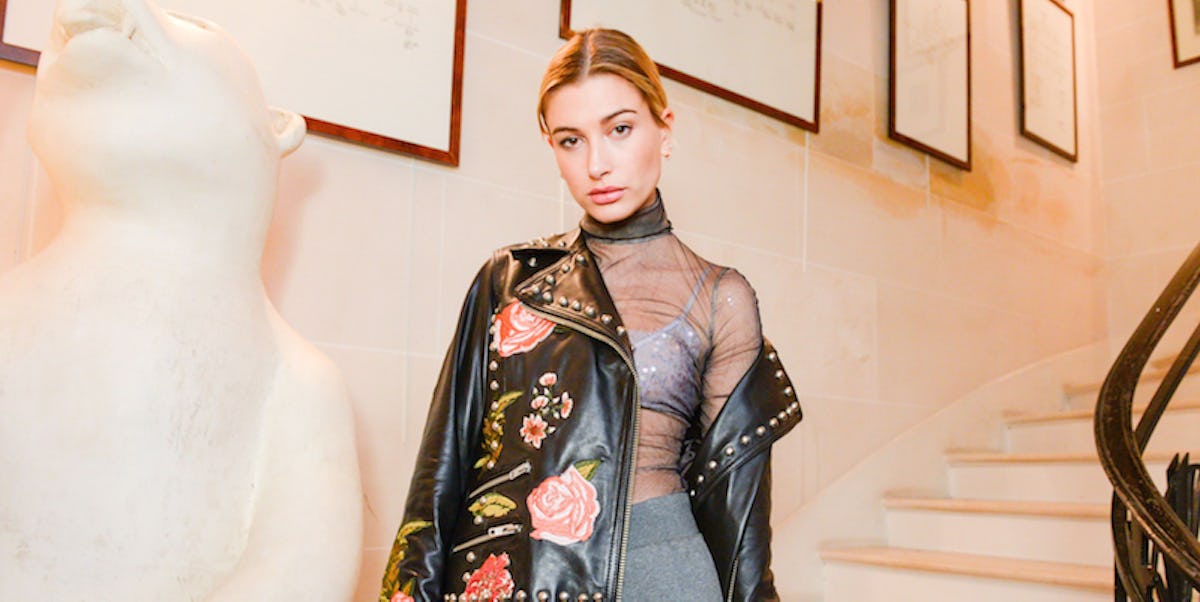 Hailey Baldwin's Ripped Sweats Mean Athleisure Has Officially Gone Too Far
REX/Shutterstock
Here's the real deal about fashion: It's mostly subjective.
So you happen to think purple turtlenecks are cool? Go out and get a celebrity to wear one, and then, the rest of the industry will probably take note.
If you doubt me, remember Kanye West has basically been selling Vogue tan leotards for years now. Instead of buying a $20 leotard from Target, you can pay hundreds for the same construction with a flashy name attached to it.
But, isn't that the fashion industry — specifically, athleisure — as a whole? Basic items with an expensive price tag, no matter how little fabric there might be?
One celebrity who's proving to have a sense of humor about the absurdity of athleisure is budding star Hailey Baldwin.
The sassy teen wore a pair of distressed, grey sweatpants to a Paris Fashion Week party — so distressed, in fact, she relied on a pair of suspenders to hold each leg up. The cuffs had completely separated from the rest of the pants.
Now, there are two possible reasons (I can think of) for Baldwin's bare-kneed display.
On one hand, she may have accidentally packed her pet cat (Does she have a pet cat?) into her Paris suitcase. Enraged, it clawed her clothing and wallet to bits. Then, because she couldn't purchase new duds, Baldwin was forced to wear her ruined clothing out.
However, it's also possible Baldwin is making some kind of postmodern statement about how ridiculous the industry is.
You can wear two totally-ripped sweatpants legs to a party, and no one will judge you. Name any other industry in which four-part pants are acceptable.
Did Hailey's kneecaps get chilly as the night went on? Did she just shave from mid-calf to mid-thigh? I have so many unanswered questions.
Baldwin paired her oversize sweats with suspenders, a mesh bodysuit and a lacy bralette.
Interestingly, though, this isn't the first time we've seen athleisure-meets-boudoir at this year's Paris Fashion Week.
Kim Kardashian, the queen of all things Instagrammable, wore fishnets and stilettos underneath snap-off track pants. Even Rihanna got into the spirit of things, wearing a zip-up jacket with three strands of pearls to her Fenty show.
Pants or no pants, the party situation worked out in Baldwin's favor.
If the paparazzi pictures are to be believed, she changed outfits halfway through the Elyse Walker party. In place of stretchy cotton, she wore a leopard-print camisole dress and lace-up sandals.
I admire Baldwin's move a lot, because it puts her smack-dab between the behavior of a famous model and that of a regular teenage girl, who decided she hates her outfit halfway through the night.
Athleisure may be the movement, but that doesn't mean it's fit for a club. Even "Baldwin of the ripped pants" (her new nickname, in my book) has standards.