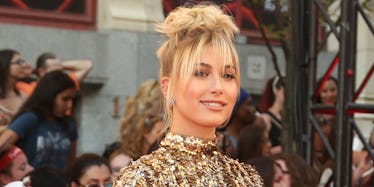 Hailey Baldwin Is The Latest Instagram It-Girl To Launch Her Own Makeup Line
REX/Shutterstock
Unless you're 16 years old and infinitely trendier than I am, you probably only have a vague idea of who Hailey Baldwin is.
The teen model is best known as the flaxen-haired daughter of Stephen (the best looking Baldwin brother) and the constant companion of Gigi Hadid, Kylie Jenner and the like. Oh, and a rumored former flame of Justin Bieber.
Now, Hailey's getting her own makeup collection. Working with model-founded makeup brand ModelCo, WWD reports Hailey will launch 25 products at Sephora-like prices (about $20 for a lipstick, $50 for a makeup palette).
She's using #TheBeautySquad for all her promotional posts, potentially hinting at the line's future name.
The Australian brand has always focused on natural-looking makeup and self-tanner, so Hailey's fresh-faced look will be right at home. We can only hope ModelCo will be able to bottle her luminous complexion and glossy, plump lips (although I'm willing to guess those might be fillers).
Shelley Barrett, the brand's founder, told WWD,
We've always said ModelCo is a fashion-based beauty brand. What we've done is we've taken a Millennial girl who is of the now and we've literally tailored each product to her and what she wears and what she uses.
Does that mean Hailey's collection will come with the doggy Snapchat filter to obscure your nose? Because that's what Millennial girls actually use, in my experience.
Hailey, 19, joins the ranks of Kylie Jenner (who launched Kylie Cosmetics in early 2016) and Kendall Jenner (the face of Estée Lauder's Millennial-oriented Estée Edit).
To be a cool girl in 2016, you need to have a side hustle.
For Hailey, the makeup line could be a step toward more recognition and, of course, modeling gigs. It's also a chance to build out a fan base that knows her for more than just an Instagram account (she already has 7 million followers, no small feat).
There's no official launch date now, but Hailey reportedly will shoot the brand's promotional campaign in November. Stay tuned for updates.
Citations: Hailey Baldwin to Launch Beauty Capsule Through Australia's Modelco (WWD)