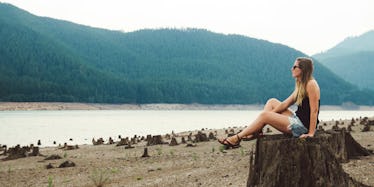 Glow-In-The-Dark Lingerie Helps You See In Bed With The Lights Off (Photos)
Stocksy
If you're a "sex with the lights off" kind of lady, one lingerie company is here to spice up your (love) life.
The company, LuminoGlow, creates sexy lace and chiffon underthings that glow in the dark -- making it a hell of a lot easier to find your partner when the lights are turned down low.
The company's latest line, Aurora, features intricately detailed white lace pieces that look normal in the light but glow green in the dark at "strategically positioned [areas] to complement the lingerie and accentuate the body."
To activate the glow, the wearer must hold the lingerie up near a bright lamp for a few minutes. Once the lights are turned off, the glow lasts about 10 minutes -- just enough time to enjoy it before the lingerie comes off.
The company was started by Jan Hawley, a mother of two, in 2008. According to Hawley, customers "say [the lingerie] indulges their senses," and adds that "they find ease of browsing and buying this most luxurious and sensual lingerie online especially appealing."
Though the lingerie's luminous properties are a major selling point, it's not the only one: All of the pieces are made out of the "finest Italian lace and fabrics, which are carefully crafted into exquisite garments that are beautifully soft against the skin."
The luxury is of course reflected in the prices, which start at $65 for thongs and top off at $180 for a chemise set.
It may sound a bit gimmicky, but when you catch a glimpse at these sultry, gorgeous underthings, you'll understand the allure.
Head to the company's website to see more of the unique, sexy products -- and maybe scoop some up as a sexy surprise for your significant other.
Lace bodysuit, $180
Chemise and thong set, $180
Bra, $75 and briefs, $85
Babydoll, $120
Side-tie bikini bottoms, $75
Thong, $65
Citations: Say Goodbye to Night Time Fumbles With This Glow In The Dark Underwear That Wows With The Lights On Or Off (Daily Mail )