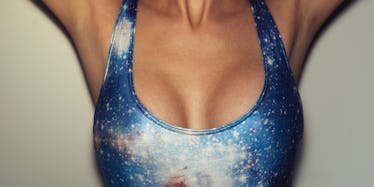 Glitter Nipples Are Happening, And There's Nothing You Can Do To Stop Them
Unless you're a Vogue editor, a luxury customer or a fashion designer, you probably don't take Fashion Week (any of them) seriously.
Until, of course, a designer does something so outrageous that you just have to appreciate it. Take, for example, glitter nipples.
During Paris Fashion Week's Saint Laurent show, model Binx Walton walked the runway in a one-shouldered leather dress that curiously lacked most of its general chest fabric. That's right, Walton walked with one boob exposed, like Janet Jackson at the infamous Super Bowl halftime show.
No only was one breast making a successful bid for freedom, but the creative team also went so far as to bedazzle Walton's left nipple.
Glitter nipples for autumn? Groundbreaking.
As it turns out, bedazzled breasts have been around for some time. Burlesque dancers, in particular, make regular use of crystal-dotted nipple pasties for a flashy statement.
When your work wardrobe is overwhelmingly just your skin, you have to take a statement piece wherever you can.
Burlesque queen Dita Von Teese, for example, has long glued Swarovski-embossed circles to her nipples just before her famous martini glass act.
Even Lady Gaga broke out the ol' pasties while filming a particularly memorable vampire orgy scene for her role on "American Horror Story: Hotel."
We have to wonder, "Are glitter nipples the new 'free the nipple'?"
Your boob might be out, but the nipple is still covered. Doesn't that defeat the whole point, then?
Regular people have already started treating glitter nipples as a music festival style, using Molly as an excuse to decorate their breasts like shiny, floppy fashion accessories.
In any case, I can think of a few famous women (read: Kim Kardashian) who might benefit from a flashy, nip-tastic style statement. Would you try it?
Citations: Glitter Nipples Were All the Rage at Paris Fashion Week (Cosmopolitan)