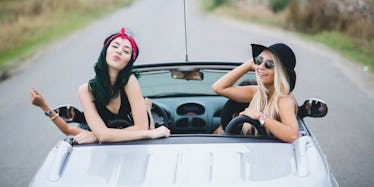 5 Unconventional Destinations For Your Next Girls' Getaway
My friend and I were driving down a swampy road in central Florida, blaring old-school Backstreet Boys songs, when she turned to me with a grin.
"Where to next?" she inquired. "I was thinking Ibiza, or maybe Nashville?"
At that point, we'd only been in Florida for a total of 12 hours and had four more days to go. I wasn't thinking about the next trip, just how to make it through this one.
"I don't know, dude," I said, tone purposefully noncommittal. In reality, though, my mind was already swimming with possibilities. Japan! Egypt! Madagascar! After we returned home from that Florida trip, we began dreaming up ideas for our next girls-only getaway.
There's something about planning a trip with just you and your BFFs. For starters, who knows how long you'll be able to keep it just you and your squad. Before long, you might be married, have kids or get wrapped up in a career. Take the opportunity to plan a squad trip now.
The only question is, where do you go?
If you're craving Southern charm, skip over to Charleston, South Carolina.
There's a certain old-school charm to Charleston. Maybe it's the wicker chairs, barbecue and Spanish-style homes, but I want in. The city is known for palm trees and a tranquil atmosphere you'd be hard-pressed to find elsewhere.
Grab your squad and take a long walk down the Battery, or head to Redux studios for some art-spiration. If you're feeling a little thirsty, be sure to hit up the Belmont for a mint gimlet.
If you've spent all winter complaining about sore muscles, hop a flight to Marrakech, Morocco.
Morocco has become a hotspot for both fashionistas in need of retreat and adventure-seeking backpackers, which makes it the perfect compromise for your wanderlust partners-in-crime.
Marrakech has a budding spa scene, so head to a private hammam or a Turkish bath for massages. Les Bains de Marrakech is a must-see. It even makes its own line of spa-ready beauty products to recreate the experience at home.
Once you and the girls are all massaged out, be sure to stop by Algerian-born local designer Norya Ayron's pop-up or live out your squad's "Aladdin" dreams at El Badi Palace.
If you need the big city experience, go to Nairobi, Kenya.
London, Rome and Tokyo are all beautiful, but they're kind of overdone. Besides, they're crazy expensive and, let's face it, someone in your girl group probably studied abroad in one of those cities. Get a little more creative and fly to Nairobi, instead.
The best time to visit the city with your girls is in August, so your safari tour can witness the Great Migration. If you're not a khaki shorts kind of girl, head into the city to check out the new Times Tower, the tallest building in East and Central Africa. Just be sure to leave your hotel early — traffic can rival that of Los Angeles.
If the girls are craving late-night shenanigans, swing by Gipsy Bar and nosh on a late-night sammy at Artcaffe.
If you're an adrenaline junkie, head to Nepal.
Don't worry, no one is expecting you and your besties to climb Everest. Nepal is home to the Annapurna mountain range, which looks just as beautiful from the window of plane as it does in person.
If that all sounds too intense for you and your squad, hit up some of the country's beautiful temples. Boudhanath and Swayambhunath are must-sees.
If all you need is wine to have a good time, fly to Constantia Valley in Cape Town, South Africa.
What, not Tuscany? Not even Napa Valley? Those places are lovely, but every true wine die-hard knows South Africa is where it's at. Once you land in Cape Town, drive about 30 minutes south to Constantia Valley. The wine made here has plenty of fancy fans, including Napoleon.
Stay at Nova Constantia or The Vineyard Hotel, which overlooks Table Mountain. Spend the day exploring the wine farms with the ladies, and head back into Cape Town proper for a boozy night out at The Assembly.
Whether your BFFs are adventurers, winos, or die-hard spa geeks, you're bound to find your zen in one of these places. The best part? Your spring break Instagrams will be anything but basic.