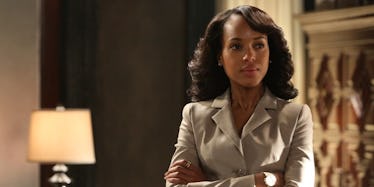 10 #GirlBoss Resolutions You Can Still Make If You Haven't Found One
Disney–ABC Domestic Television
Shonda Rhimes might have just insinuated women today are boring.
Don't know who Shonda Rhimes is? She's the creator badass women such as fiery Christina Yang  in"Grey's Anatomy" Olivia Pope in "Scandal."
Yes, Olivia Pope, the wearer of all things monochromatic, the one who never stains her outfit while constantly "handling it" and drinking red wine.
Touché, Olivia Pope.
Rhimes decided to spend one year saying "yes" to opportunities that came her way, and managed to completely rock it just like the characters she's created for television.
We're only halfway into January, and ladies, 2016 is the year we stop f*cking things up and start being our best selves.
Say "yes" more.
The first thing you've got to do is promise you'll say yes.
Take a page out of Rhimes' book.
Get out of the house. Go on a date with someone who might not be the one.
If you're usually saying "no," to everything, saying "yes" might be what leads you to unexpected, but great moments.
Look for inspiration from famous badass women.
So many celebrities these days are using stardom to highlight important issues to a larger audiences.
Sign up for Lena Dunham's newsletter, Lenny Letter. 
That's the famous publication where Jennifer Lawrence wrote about the wage gap between men and women in Hollywood.
Join Emma Watson's feminist book club. Haven't read "#Girlboss" by Sophia Amoruso? She's the boss behind Nasty Gal.
Learn from the best in whatever industry interests you.
Try new things outside your comfort zone.
Make 2016 the year of experimentation.
If you've secretly been interested in an improv, find a free improv class in your city.
Beginner's guide to hip-hop? Go for it. Even if you feel awkward, try it with confidence.
Fake your badassery if you have to, but try something you've been interested in. Now is the time.
Build a strong female network.
Find friends who encourage you to strive for more, support your dreams and value independence.
This doesn't mean only hang with likeminded individuals, but rather people who want you to be your best self.
Forget the sh*t.
Eliminate the toxic sh*t because who needs it anyway? 
Don't bother wasting your time brooding over negative people, bad situations and, especially, f*ckboys.
Empower the women around you.
Think about how powerful women are.
A woman is running to become president for one of the most influential countries in the world.
Women aren't defined by traditional feminine norms anymore.
Even Barbie won't be held down by feminine stereotypes.
Celebrate your body.
All hail the queen of self-confidence, Amy Schumer.
Body confidence is an issue every woman deals with, but Amy Schumer nailed not giving a f*ck in her photoshoot with iconic photographer, Annie Leibovitz.
Try taking pride in your beach body this year.
Do something alone.
It can be as simple as going to the movies or treating yourself to a nice dinner.
It can be as grand as taking a vacation alone to Costa Rica or Japan.
Many times, we don't do things because we fear being alone.
Friends may decide not to go with you to that art event or concert you really want to see, but f*ck it.
Being afraid to be alone means you have to miss out on all the fun you could be having. So, just go alone.
Spread girl power globally.
Not every woman has access to education or the right to choose. Women all over the world are trapped in poverty with little to no wages.
Some are forced to marry, not respected enough to make their own decisions.
Most recently, India has been facing protests from citizens after an attacker from the Delhi bus rape was released.
The country is making small steps toward harsher punishments to make the streets safer for women.
Volunteer and support global organizations dedicated to helping women around the world.
Use your power to help others, even if it's locally.
Put the phone down and focus on real connections.
The most important resolution of them all.
Invest in your relationships with the people around you.
Stop texting the guy you like and go get drink at a bar. Invest in a career you love, not one you dread.
Invest in the things that make you giddy. Invest in yourself.
Make 2016 your most badass year yet.