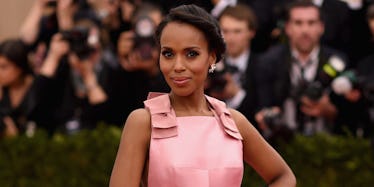 These 15 #GirlBoss Quotes Will Inspire All Your Career Goals In 2016
Getty Images
Getting inspired is easy. Staying inspired, however, takes work.
Whether you're a recent graduate jumping into an entry-level position or CEO of your own business, reaching success is never short on obstacles.
We all anticipate some level of difficulty while reaching success, but some days we need an extra dose of motivation to keep reaching for our dreams.
Though the new calendar year will surely usher in professional pitfalls, stay encouraged with uplifting words from female powerhouses.
When you're gunning for an executive position at your male-dominated job.
When you're concerned about whether any of your hard work is paying off.
When you're not sure whether you should be relocating for your job.
When you're planning on starting your own business.
When you refuse to let your racial differences compromise your success.
When you need to stop playing nice.
When you're applying for your dream job.
When you're sick of working a job you don't love.
When you bomb a big test.
When you know you're not putting 100 percent in at work, take a note from Birchbox cofounder Katia Beauchamp.
When you're taking 21 credits in one semester and you don't know how you'll make it.
When you're heading to an interview for your dream job.
When you're pulling all-nighters and questioning whether you chose the right major.
When you're constantly comparing yourself to your coworkers.
When you're all-around badass and DGAF what others think.