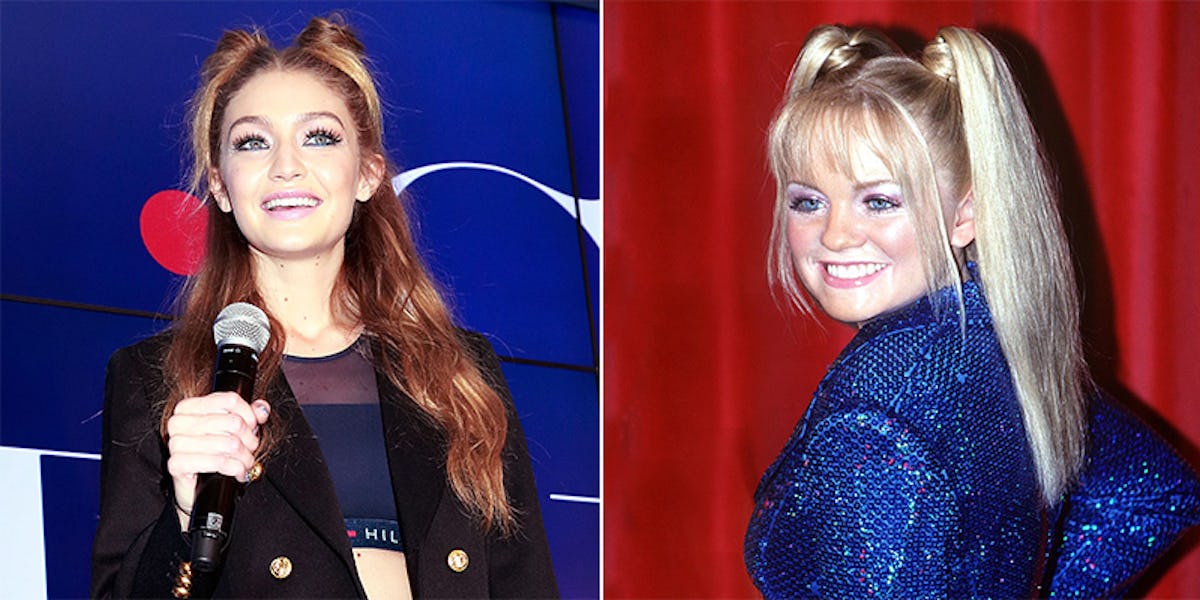 Gigi Hadid Looks Exactly Like Baby Spice Now, Proving The '90s Are Back
REX/Shutterstock
In 2016, we love to obsess over every move certain high-power ladies make.
They're beautiful, famous and all have a distinct brand; they wear costumes and mess around in photos.
Kendall, Gigi, Hailey, Jourdan and Cara are the it girls. They're so famous, they can go by one name and you'll know them. One tribe, united in girl power.
Is this starting to sound familiar?
During the 1990s, we worshiped a very similar group of influential women: the Spice Girls. The cult of Spice lives on to this day, following every move Geri Halliwell and Victoria Beckham make.
It seems I'm not the only one who's noticed the similarities.
On her press trip to Japan, Gigi Hadid gave us serious Baby Spice vibes.
At a Tommyxgigi launch event, Gigi's long, blonde pigtails and space queen buns were so precise, Emma Bunton couldn't have done them better.
Had she strapped on a pair of sky-high platform sneakers and busted out the "Wannabe" choreography, the outfit would've been complete.
Baby Spice, so named because she was the youngest member of the Spice Girls, always loved a flirty outfit paired with child-like pigtails. Admittedly, that "sexy baby" look never goes out of style. Britney Spears knows it better than any of us ever could.
Gigi's blonde hair is the perfect fit for Bunton's look, which often involved the kind of bangs we all wanted in middle school: heavy and never as easy to style as they looked. Mostly, they just sat on my forehead like an exceptionally limp kind of hat.
Gigi might be the most similar in looks to Baby Spice, but she's not the only famous 20-something to try out the look.
Just look at Ariana Grande, the pop culture descendant of Baby's vibe.
While promoting "Suicide Squad" this past summer, Cara Delevingne also tried out her own pair of buns.
Really, I'd peg her as more of a Scary Spice. Girl can't be tamed, and it's not just because she has a lion tattooed on her finger.
Kendall Jenner, too, has tried her hand at being Baby Spice. On the cover of Vogue Japan, she posed in a pair of extension-less braided pigtails.
Every woman worth her salt knows Kendall is the obvious choice for a modern Melanie C, also known as Sporty Spice.
With all her glitz, Jourdan is 2016's Posh Spice, which leaves Hailey Baldwin as Ginger. Girlfriend has some seriously big (and ginger) hair extensions to fill.
Do you buy that we've seen the second coming of the Spice Girls? Give me your best theories in the comments below.