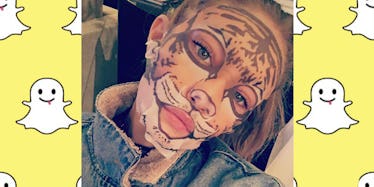 Gigi Hadid Can't Stop Snapchatting These Hilarious $3 Face Masks
SnapchatShutterstock
I've given a lot of hard thought to what it is that makes being a woman so worthwhile.
Ovaries, aches and PMS aren't so bad if you consider the positive side of things. Off the top of my head, the right to lock yourself in the bathroom for beauty rituals, truly excellent hair and boobs make the top of the list.
When the world gets you down, you can light a candle that costs more than a cashmere sweater, shut out the world and apply moisturizing products to your face until it physically can't absorb any more.
Every lady, no matter how rich or famous, needs a luxurious pampering session occasionally. Even Gigi Hadid.
Fresh off a month pounding the runways, Gigi is finally making time for herself. The teen superstar has been all over social media, documenting a recent trip to Japan promoting her Tommyxgigi Tommy Hilfiger collection.
Most importantly, she's been trying out face masks.
Japan and Korea are famous among beauty enthusiasts for their innovative approach to beauty. (I could write a book on the 10-step skin care routine.) Among the best inventions is the humble sheet mask, which is essentially a length of cotton shaped like a Jason Voorhees mask that's been soaked with fluid.
Once you have that basic recipe, anything is possible: collagen for bouncy skin, extra moisture, the works. I've tried sheet masks shaped like masquerade disguises and animals, not to mention those soaked in snail slime.
It's obvious Gigi and I are on the same page because her snaps include over-the-top masks in the shape of tigers, clowns and skulls. (She clearly feels OK making creepy clown jokes because she's protected by hulking security guards.)
Like only a model can, she actually looks good with her face half-covered in a cartoon feline.
The best part of all this? Sheet masks will run you anywhere from $3 to $5, meaning they're a cheap way to get better skin while taking a series of increasingly terrifying selfies.
If you're ready to try Gigi's masks, look no further than SNP's Animal Tiger Wrinkle Mask to amp up dull skin and Berrisom's Horror Mask Skull to minimize fine lines.
SNP Animal Tiger Wrinkle Mask (pack of 10), $15, Amazon; Berrisom Horror Mask Skull (pack of 10), $29, Amazon 
There are worse things you could do than take a free beauty tip from a woman who gets paid to professionally have beautiful, glowing skin. We've tracked her face mask habits in the past and have always been impressed with her know-how.
Who needs a beauty editor when you have Gigi?