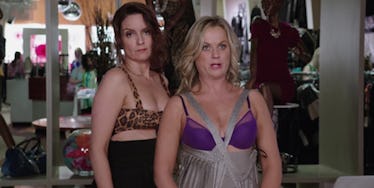 Why Are Clothes Made For Us To Fit Into Instead Of To Fit Our Bodies?
Universal Pictures
It is no secret that females have it rough in media. We are scrutinized, sexualized and generalized in every way a person can be: by our weight, height, eye shape, skin color, hairstyle, fashion choices, age and more.
As I'm writing this, I worry about saying something that offends the greater female population, about coming across uneducated or impulsive. I worry that people may take this article as a way of lumping women together, or worse, isolating or separating us from each other, or even worse, speaking on behalf of the entire gender, even though I know my personal experiences don't even skim the surface of what it means to be a female.
I am not trying to do any of those things. Mostly, I wanted to write this article just to point out this: Society has created an industry for products designed to alter the female body so we can wear clothing, rather than designing clothing that fits our bodies.
Isn't that, like, kind of nuts?
In every way, I consider myself very average. I'm a 5'4", 26-year-old, Caucasian female. I dye my hair blonde. I work out maybe three times a week and drink alcohol maybe three nights a week. I love makeup, skinny jeans and skinny vanilla lattes. I wear red lipstick when I want to stand out and sweatpants when I feel fat. I love reality TV and Pinterest. I assume when I get older I'll at least look up Botox (and, if I can afford it, almost definitely get it.) I'm about 15 lbs overweight and started drinking Slim-Fast when I was 15 years old. If you were to lump me into a stereotype, it would probably be "the basic bitch."
Like most people, there are days when I feel pretty damn good about myself and a lot of days when I think I just "pass." I have tricks to spice up my look and distract from my body, like wearing big scarves or funky jewelry. I want to wear crop tops literally more than anything but don't think they're "meant for my body type." I also truly believe I would be, like, totally FINE with my body if only my neck were an inch longer. Really. That's it. And I guess also if my arms weren't the first place I gained weight. And also if my chin were more pronounced. BUT THAT'S IT. Then I'd be perfect.
The other day, I was feeling like a giant piece of human trash because, who knows why? And I started combing through my closet. I made three piles: clothes that fit, clothes that don't fit, and things to force my body into the pile of clothing that doesn't fit.
I learned that I own: - Two different pairs of Spanx - Two push-up bras - One set of nipple pasties - One corset - Billions of control-top tights that don't fit. Never fit. Will not fit.
It was weird to look at this last pile of items, a blob of flesh-colored latex and spandex.
Like for everyone in New York, finances are tight (Right? Everyone?), so I did a quick Google search to see how much I've spent on these kinds of things over the years.
Here is, roughly, what each item cost me:
- Two pairs Maidenform Control Top Bloomers, $14 - One pair Spanx Higher Power Short, $38 - Two Body By Victoria: Victoria's Secret Push-Up Bras, $46.50 each ($93 total) - One Maidenform Instant Slimmer Waist Nipper, $43 - One pair Ricky's Nipple Pasties, $15.99 - Five pairs of black tights, anywhere from $4.99 to $14.99
That's $250-$300 worth of products meant to change the way my body fits into clothing, and that number does NOT include all the variations of underwear and bras I have.
What's more, these items are "normal." They aren't even the crazy ones. Did you know there is a device out there you can suck on to bring more blood to your lips so they are temporarily "bruised" and look bigger? Or a powder designed to make your nipples look pinker?
My boyfriend buys a five-pack of Hanes underwear every six months for 15 bucks and lives his life the rest of the time. Most men -- and I know not all men -- likely have three choices to make in the morning: What shirt should I wear? Which pants should I wear? Which shoes should I wear? If he's a blazer kind of a guy, a tie and belt choice may fall in there as well.
Some men may enjoy fashion for fashion's sake and take the extra time to piece together their outfits because they like to -- but probably not because they read in a magazine which shirts look best on them based on the fruit their torso most closely resembles.
Even though I know that, as women, finding acceptance in our bodies gives other women permission to do the same, I still bought $250 worth of latex and spandex. Even though I am happy, healthy and love easily, I still hate the way my hips look. Even though I don't care what the creepy guy at the end of the bar thinks about my lipstick, I'll wonder in the morning if I should put it on or not anyway. Just wonder, ya know? Because that's what I've been taught to do.
Even though I feel like I should end this article with an apology, just in case I've said something you disagree with, I'm not going to. Is that OK?