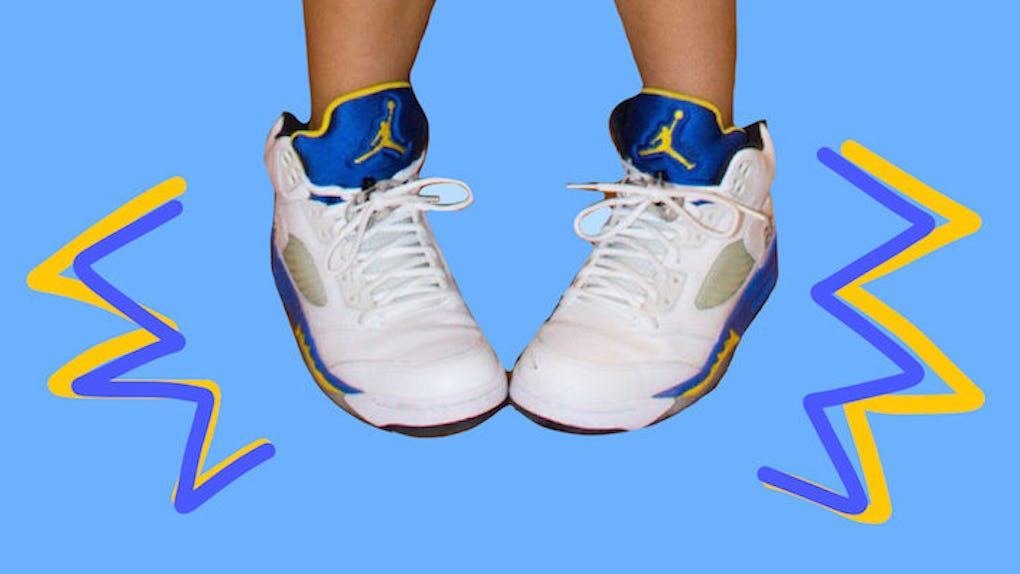 Celine Rahman
How To Wear Dresses With Sneakers
Back when I was party girl in college, I had a weekend routine. My friends and I would get dolled up, throw back a few shots and get ready to paint the town. We'd end our pregaming by drunkenly wiggling into a pair of heels and stumbling out the front door. Naturally, I'd immediately regret thinking I could walk more than five minutes in a pair of heels (even while drunk).
After paying my dues all throughout college, I realized I simply could not wear dresses with heels -- even kitten heels or wedges. I'm just not the kind of girl who's skilled like that. Literally nothing about throwing on a dress, pregaming, heading out and falling over in five-inch stilettos sounds appealing to me. Who would go through that kind of torture? Not me. I am all about that sneaker life. And now my closet is filled with dresses and shoes that keep me right on the ground.
So what's a gal to do when she wants to wear a dress but doesn't want the ~drama~ that comes with sporting a pair of high heels? The key is to snag a few quality pairs of stylish sneakers or flat shoes that won't tear your feet apart. A good friend of mine was kind enough to let me borrow her shoes for this shoot, so let's take a look at what you need to rock dresses and shoes that don't kill.
For your daytime spring picnic
Cotton and Converse go together like peanut butter and bananas. If I could, I would wear my white Converse every day. (I practically do already). That's why I'm seriously considering buying a pair in every color; they're the most affordable and versatile pair of shoes I own, and they're so cute.
If, like me, you're running around all day and wearing a dress -- I'm wearing an H&M one here -- you aren't also going to want to wear heels in the middle of the day. So whether you're going to a casual picnic in the grass or running errands around the city, any low-top sneaker is really the way to go here. Whenever I'm wearing a dress with sneakers, I like to go super girly on accessories, so I usually pair my spring dresses with a gold-accented, cross-body purse.
Buy: All Star, Converse, $50 or Authentic, Vans, $45
For when you just wanna chill
I've always wanted to rock a pair of kicks this dope and master the ~ghetto fab~ look. Like, I've always appreciated just how cool the legendary Michael Jordan's Air Jordans were on other people, but how the hell was I supposed to wear these things?
My shoe-lending friend INSISTED that Air Jordans were a collector's item, and I wasn't exactly sure I had it in me to pull them off. But as I got my outfit together, the look slowly began to make sense. I threw on a black, ankle-length dress from Zara and tied a chambray shirt around my waist to make it look like I DGAF. Suddenly, my super girly, super flirty style was tomboy chic, and you know what? I was loving how comfortable I both looked and felt.
Dresses don't always have to be A-line or skater. They can be low-maintenance and androgynous. Sometimes simple is better, and this simple outfit is a perfect example of having the shoes do all the talking. I'd maybe even throw on a pair of hoop earrings, keep my hair in a low pony and sling on a baseball cap to really nail that I'm-tryna-smoke-weed-and-chill look.
Buy: Air Jordan 1 High The Return, Nike, $150
For when you're going out and getting rowdy
I am ALL about slip-on shoes these days. Like, tonight, I'm headed to a birthday party, and I'm wearing them. No joke. They're casual enough to wear with an equally casual outfit, like leggings and a top, but you can also rock them with a dress.
I paired these classic black Vans with my gold, sparkly Aqua dress. I love the contrast between the feminine style of the dress and the masculinity of this unisex shoe. If you're going to have a pair, you should probably start with black, which you can wear to both CVS and a birthday party. Trust me, you'll stand out.
I suggest slip-ons for the girl who will never wear flats, because their cushy bottoms don't rip your feet up like flats (I HATE flats).
Buy: Classic Slip-on, Vans, $45
For work or school
These shoes aren't your typical sneakers. But to me, sneakers are any shoes that have laces instead of heels, so I'd throw these into my daily rotation of flat shoes. They're great for work because they're refined but comfortable, and it's always hard to find shoes with both of those qualities.
I paired these black men's sneakers from a Brooklyn-based company called Greats with a soft, sashed-around-the-waist Ann Taylor dress. The style I'm wearing is called Royale, but Greats makes a ton of great alternatives if you're not into laces. I completed the look with a small leather backpack, thick-rimmed glasses and a bold, red lip. It's always fun to play up the makeup -- whether with a loud lip or a cat eye -- when wearing an outfit that isn't very girly. That way, you maintain balance.
Buy: The Royale, Greats, $159
So there you have it. Try these out, because heels are WAY overrated. Your feet will thank you.