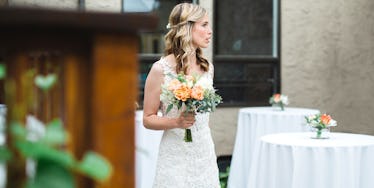 Women Sick Of Hearing 'Feminists Are Ugly' Are Sharing Gorgeous Selfies (Photos)
Stocksy
When the hashtag #FeministsAreUgly started trending on Twitter yesterday, many women took to the social media site to show their disgust with the misogynists who popularized this mean and petty phrase.
Amidst a back-and-forth about what feminism really is and how women's looks should not be involved in the equation, some women appropriated #FeministsAreUgly to post selfies of themselves.
Using the hashtag, the women proved that those who started the hashtag aren't just entirely misinformed, their claims are super inaccurate.
Below are some of the best responses to #FeministsAreUgly. And for the record, we think that everyone who responded to this is beautiful — both inside and out.
#FeministsAreUgly is trending on twitter and I'm laughing because... pic.twitter.com/1WhqYGEXtC — Ciara Healy (@CizHealy) August 8, 2014
Irrelevant (and wrong) #FeministsAreUglypic.twitter.com/wHcdNTLjbv
— Izzy Evans (@izbe1l) August 8, 2014
Remember apparently #FeministsAreUgly pic.twitter.com/rwGSH7MFds — S♔ (@glamscar) August 8, 2014
Also, #FeministsAreUgly? Heck I'll enjoy being ugly to annoy men who complain about it pic.twitter.com/Vazui2sOvf — Georgia (@melodicviolin) August 7, 2014
#FeministsAreUgly ..... Which one of u ugly mufukas started this hashtag pic.twitter.com/pxBU16QLw7 — spicy latina (@camiinthisthang) August 7, 2014
And (cc @conversiontales) it's not that #FeministsAreUgly, but the underlining #MisogynyIsUgly that we're ignoring. pic.twitter.com/WGgROFdem6 — Fern Riddell (@FernRiddell) August 8, 2014
#FeministsAreUgly trends on Twitter, feminists hit back by posting stunning selfies http://t.co/KHKfPgRFVx @dna pic.twitter.com/eVzFBwidQs — Sam Maindarkar (@sammaindarkar) August 8, 2014
#FeministsAreUgly I LOVE THIS TAG BC ITS FILLED WITH EVERYONES LOVELY SELFIES HERE HAVE THE BEST ONE IVE TAKEN pic.twitter.com/RPgyreuINS — nell (@hellaparamore) August 7, 2014
Just to piss off guys even more #FeministsAreUgly pic.twitter.com/HLTmseZ5iN — مروك (@_mindinrevolt) August 7, 2014
#FeministsAreUgly apparently pic.twitter.com/eMMVIJLsq9 — الحمد لله (@MMMEENSZ) August 7, 2014
#FeministsAreUgly But seriously, ugly/pretty shouldn't be your first definition of a girl #HumanRights pic.twitter.com/Dvgycs4QaA — Michelle De Leon (@miichelledeleon) August 8, 2014
Even if it was true that #FeministsAreUgly, they'd also be bright, brave, and strong and that's more important. pic.twitter.com/RL93XW0m4v — Sheena Sproule (@sksproule) August 8, 2014
If #FeministsAreUgly then why did I start liking myself when I became one? pic.twitter.com/DN6XXefLG7 — Kennedy Ryan (@kennedylryan) August 8, 2014
Ha. What idiot started this hashtag? Lush to see so many beautiful ladies proving them wrong!!! #FeministsAreUgly pic.twitter.com/MTgKpzNLNA — E M I L I E (@EmiliePWilliams) August 7, 2014
Joining #FeministsAreUgly because this hugely ignorant and plain embarrassing anti-feminist movement has to stop. pic.twitter.com/kkH50s1x0W — Joanna Young (@hijoyo) August 8, 2014
#FeministsAreUgly look away i may burn your eyes pic.twitter.com/nsh8E2CKq9 — Tess Klibanoff (@tessdancer) August 8, 2014
i still can't believe #feministsareugly i'm so ugly, what fedora-wearing manbro will buy my hand in marriage now pic.twitter.com/zkgzkLfrOM — susan (@queerreid) August 7, 2014