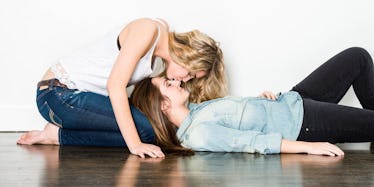 Why The Exercise-Loving Mother-Of-Three Shouldn't Be Considered A 'Fat-Shaming Bully'
Stocksy
Maria Kang, 32, from Los Angeles, California, is a mother of three and runs a fitness-focused non-profit organization from home. She recently has been blasted on social media for posting a photograph of her toned body and three kids with the caption, "What's your excuse?"
Indeed, while many of the 17,000 commentators support her encouraging photo as "thinspiration," thousands of others have called her "insulting," "obnoxious," and a "fat shaming bully."
What is up with all the internet trolls out there? Since when did posting inspirational photos of yourself become such a heinous crime?
One woman wrote,
"You are . . . hurtful to women and think way too much of yourself. Disgusting is what you are!"
Another wrote,
"People like you who post pictures like this make people like me cry because I know that without surgery to lose the extra skin I will never look like you. So what's my excuse? I do not have the same great genetics you do."
Whoa, back up for a second. Clearly Ms. Kang, who runs her own non-profit fitness company and promotes a healthy lifestyle on her website, is not trying to hurt anyone's feelings or make anyone feel bad about themselves.
This is a woman who encourages a positive body-image and outlook towards fitness. Those who are offended by her photo have their own personal body issues to reconcile.
Her "What's Your Excuse?" image has received over 16 million views on Facebook since it was posted a year ago. Kang decided to re-post it to her 80,000 followers last month, but included an apology after realizing it was garnering hundreds of negative comments.
Responding to the slander and the critics, she wrote on Facebook:
"I'm sorry you took an image and resonated with it in such a negative way. I won't go into details that I struggled with my genetics, had an eating disorder, work full time owning two business', have no nanny, am not naturally skinny and do not work as a personal trainer. I won't even mention how I didn't give into cravings for ice cream, french fries or chocolate while pregnant or use my growing belly as an excuse to be inactive. What I WILL say is this. What you interpret is not MY fault. It's Yours. The first step in owning your life, your body and your destiny is to OWN the thoughts that come out of your own head."
Well said, Maria Kang. She turns the negative gripes that her critics have into fuel to keep working out. Ms. Kang notes that she does have stretchmarks and excess skin from three pregnancies but these "scars" encourage her to "keep striving" and "never stop."
I wanted to say, "I know you think you don't have time if you have kids. But if I can do it, you can do it, too."
That's not to say the petite mother doesn't work hard at achieving her strong body. She does 30 to 60 minutes of strength training and cardio every morning, five to six days a week.
Ms. Kang tries to get to the gym by 6:30am and then returns home to "feed, clean and play" with her sons. After, she focuses her attention on the non-profit business she runs, Fitness without Borders, which promotes fitness education in schools and local communities.
How can someone say that she is a terrible person, when she is working her hardest at conquering her goals and inspiring others to do the same? The absurdity of Maria Kang's haters is beyond fathomable. Why does the anonymity of the internet give people license to criticize, tear down and degrade their peers?
We say kudos to Maria for being brave and posting photos of her weight-loss progress since having her last child. She proves that motherhood doesn't have to ruin your body or your self-image. The only people who argue that fact are those who are unhappy with their own selves.
Top Photo Courtesy: Maira Kang