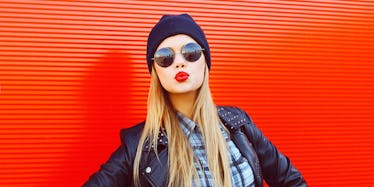 15 Diva-Approved Ways To Enjoy Fashion Week, Even If You Can't Actually Go
New York Fashion Week is a time-honored tradition. Beautiful people blow air kisses to fellow contemporaries, bask in photographer attention and, of course, preview the newest season of designer fashion.
In theory, it's clothing that brings street style stars, media authorities and celebrities together for one monumental week. However, the fashion show cycle actually runs on a combination of caffeine and glamor. As someone who's been to NYFW, I can tell you, there's a lot of standing around waiting for compliments and frantic rushing to the next show.
But if you're a fashion lover who's not operating on a budget large enough to merit airfare and a hotel for a week of wearing pricey garb, what's a girl to do?
Throughout this week, you'll undeniably see a steady stream of think pieces about the way Fashion Week has changed since the invention of social media. While that's true, constant oversharing also makes the experience much easier to replicate.
Follow these steps, and you'll be living like a real NYFW style star in no time. Don't be surprised if you manage to show up on The Sartorialist by the end of the week.
1. Try out a wildly restrictive diet.
Usually, you alternate between pizza and salad. But during Fashion Week become obsessed with a bizarre diet, like one that only lets you eat lemons or chow down on fruit exclusively found from the ground.
Sure, you might be hungry for a few days, but you'll look chicly-ill in all your photos. Simultaneously, you'll have something to discuss on social media.
2. Dress in an exhaustive amount of layers.
It's an insider secret that fashion isn't about design, it's really about the total amount of clothing you can show off at once.
Start with a fitted bodysuit or camisole, then add on a t-shirt, cardigan, knit sweater and overcoat. Feel a little like Oliver Twist? Now you're getting it.
3. Wear flats, but stick a pair of stiletto heels into your tote. Change into them before every major meeting.
Everyone knows it's impossible to hobble around in a pair of sky-high heels all day, but beautiful shoes deserve time in the sun.
To avoid blisters and still look fabulous, stash those heels in an oversize bag and rely on flats to do the work. Directly before meetings, happy hours and other events, make like Houdini and do a quick change.
4. Book yourself a week's worth of full-face beauty application appointments.
Fashion Week was founded on the idea of beauty, so it only makes sense to look your best no matter where you're celebrating. Blow that cash you've been saving for a new bed frame, and spend the money on something fashion-forward instead.
Using one of the many beauty service apps out there, schedule a series of professional makeup appointments. All this Fashion Week stuff is hard.
5. Wear all your glitzy costume jewelry at the same time.
Clothing is not the only thing fashion lovers adore wearing in thick layers. Dump out your jewelry box for this very special occasion and layer holiday gems under the mountain of beads your grandmother keeps giving you for Christmas.
The combination might be weighty, but just think of it as the physical manifestation of your dedication to Fashion Week.
6. Refuse to travel in anything less than a black car (okay, a cab will do).
Public transit and chauffeur-less vehicles are for peasants, not stylish people. Like Anna Wintour herself, hop in a car whenever you unexpectedly have to rush to a different locale.
She may be headed from Soho to the pier, but your lunchtime trip to McDonald's is just as important.
7. Bully a friend into taking your photo every day, casually strolling through the middle of traffic.
When shooting street style photography, make sure there's nothing natural about it.
Whether you're bobbing for apples in a public fountain -- clad in Miu Miu, of course -- or racing through traffic in Jimmy Choos, the point of the image is only partially about the outfit.
Armed with an arsenal of shots, you'll have social media posts all week. Who even needs to know you never made it to New York?
8. Look for excuses to bring up the way your blowout is faring in the weather.
When you see the same people at every fashion show, coming up with new topics to mull over becomes a little stressful. Even if you're not actually at Fashion Week, try sticking to two conversations, the weather and how it's affecting your freshly styled hair.
Don't be surprised if you're a natural.
9. Utilize Starbucks bathrooms, telephone booths and shadowed corners as your changing room.
Just like models rush to change between sets, you've got quite a few costume changes to make before the week is over. Instead of remaining in the same ensemble all day, treat your lunch break like the gap between shows.
Swap out your clothes in any public restaurant or space that will have you. Just make sure the street style photographers aren't around.
10. Memorize up to five fashion names or labels, then use them in every conversation.
Every season brings an entirely new cast of hopeful fashion legends as well as returning stars, but who can be expected to keep them all straight?
Pick two or three, then surreptitiously find ways to name drop them into every conversation.
11. Correct both friends and strangers on their pronunciations of Givenchy and Balmain.
No one likes a know-it-all, except the know-it-all herself. Contrary to popular belief, couture isn't pronounced coo-ture, and Nicki Minaj has no idea how to say Balmain.
Take this time to remind the people in your life that you know more about fashion.
12. Comment on the lighting scheme of every room you enter.
Fashion-forward people are always thinking about looking fabulous when photographed, so this is your time to do the same by pointing out every unflattering fluorescent light you see.
When you find good light, do not hesitate to selfie under it immediately.
13. Discuss the ways bloggers have over-commercialized the industry.
If there's anything a bona fide media person both loathes and hates, it's a blogger. Thanks to social media promotions and cutesy websites, lifestyle and fashion bloggers have become some of the most influential people in the industry without ever taking a single design class.
This, too, is a perfect conversation starter.
14. Mention details of a fashion after party you saw online, but neglect to mention you weren't there.
Everything we read on the Internet is totally accurate, right? In that case, it's up to you to spread tales of fabulous parties amongst your friends.
If Vogue hosts a cocktail party and no one gossips about it, did it even happen? We think not.
15. Assign supermodel alter egos to all your girlfriends, then only refer to them by those names.
Today's top models run in packs, like Kendall Jenner and Gigi Hadid. Instead of envying those long-limbed runway stallions, try taking on secret identities for the week making each of your friends play along.
Cara won't stop pulling faces for the camera, and Karlie just wants to do her work in peace. You're not crazy, it's all in good fun.