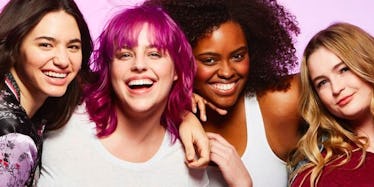 Elite Daily Wants To Hear From You
Hannah Burton/Bustle
At Elite Daily, we believe every woman should have a voice and that voice should be heard.
That's why we've made it our priority to create content that reflects what women are going through, what they like, what they don't, the causes they care about, and why they care about them.
To make sure that we can hear from our readers even more, we are super excited to announce the unveiling of our new platform, the BHive, which will serve as an exclusively inclusive community where we'll open up the dialogue with you about anything and everything ranging from life ambitions to the latest episode of The Bachelorette. In addition to idea sharing, we'll host parties, cocktail hours, and special events for BHive members, providing you with perks like swag and chances to win the latest must-have gadgets in exchange for giving us your gift of gab.
Log in when you want and share as often as you'd like. We promise not to bombard you with requests all the time; that's not our style, and we know it's not yours, either.
Need more reasons to join? Say no more:
Elite Daily will be even more enjoyable to read when you tell us what you want to see more of.
Being a BHive member means you're instantly part of a supportive, fun community of badass women.
You'll get an insider look at special projects we're working on and get to see the results of what you participated in.
Secret Event Invites.
Swag.
Respect.
Welcome to the BHive. We've been waiting for you. Join now.