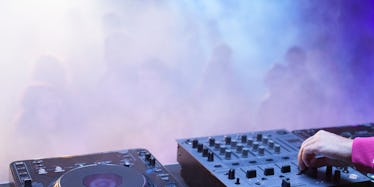 Meet The Female DJs Changing The EDM Scene And Fighting For Equal Pay
Aleksandra Kovac
It's early January in Mexico City and I'm hanging out at an underground EDM club located in a neighborhood my intense Israeli bodyguard will later call "the most dangerous part of town."
I already know I'm not cool enough to be here. Strobe lights and smoke fill the room as 20-something men and women sway their arms and legs to the exact tempo of the music, like perfectly-timed marionettes.
One American techno fanatic, dressed in glow-in-the-dark paint and a onesie, tells me he and his friends found out about this event last minute and decided to hop a plane. He wanted to feel connected to this particular night. It was easy to see why.
This event is special, because it includes an all-female lineup put together by Discwoman, an organization comprised of the three most badass feminists in techno music. Electronic dance music produced largely for clubs, raves and dance festivals, has long since been considered a boys club that feeds off a "bro" culture. The male-dominated environment controls the nightlife infrastructure, from club owners, venues and booking agencies to festivals and record labels. For years, it's been difficult for women to book gigs and fight for equal pay.
Not tonight, though. Tonight is for the girls.
As I walk backstage, DJ Demian Licht is up and everybody crowds around to watch. Despite the name, Licht is a woman, and she's considered one of the most technically savvy producers in the game.
We all watch, fascinated, as the Mexican native's hands move at blinding speed, hitting her launch pad rapidly to create a sequence of sounds I've never even heard before. It's ominous and energetic simultaneously.
This is electronic dance music in its purest form, and it's what keeps devoted fans booking tickets to countless festivals year after year.
After Licht's set, we sit on a bench outside the club to talk, our bodies shivering in the 50-degree chilly night air of Mexico.
"Before this event, you would never see women on the Mexican stages," says Licht, owner of the first Mexican dance record label founded by a woman. "Here, you have to be a warrior, to fight and struggle every day as a woman."
To be taken more seriously, Licht changed her name from Luz González Torres. She wanted to sound more masculine.
"I'm not defined as male or female," she says. "I'm a human being."
Licht's experiences of discrimination and gender bias in the EDM world are typical for female DJs. In 2015, only 10.8 percent of major festival lineups worldwide included women. Similarly, only 18 percent of labels have women on their rosters and less than 10 percent book gigs at major clubs, according to data compiled by Female Pressure.
About two years ago, three Millennial women named Frankie Hutchinson, Emma Burgess-Olson and Christine Tran set out to do something about it. They formed Discwoman, a sort of task force dedicated to highlighting, supporting and promoting female DJs. Its primary focus is getting women booked and paid.
The morning after the event, we all meet up at a park in Mexico City to talk feminism and music. The trio is in town thanks to Smirnoff Sound Collective, a division of the vodka brand dedicated to music. It's featuring Discwoman in a new video series "Tribes," which aims to highlight subcultures of different genres in music.
The women are hungover, but still riding the high on last night's success. They seem to feed off each other, finishing each other's sentences and occasionally bursting out into fits of laughter in response to inside jokes as I ask questions.
Burgess-Olson, 27, goes by the stage name UMFANG and is the sole DJ among the three women. Because she was lucky enough to work with producers who pushed for female talent, she never fully understood the challenges female musicians face until she started Discwoman.
"I personally hadn't struggled that much as woman in the world of DJing. I kind of felt like that was an excuse, that people weren't working hard enough," Burgess-Olson says of the time before she understood the seriousness of the issue. "I did have a personality that made me immune from feeling oppressed by men during my DJ sets, but that's not the case for everyone. So, if I have a voice that can speak up, I should."
Burgess-Olson explains the industry's bro culture atmosphere is the reason women are so under-booked and underpaid.
Vivian Host, a DJ known as Star Eyes, describes it as a "mafia" in the "Tribes" documentary.
"You look at the lineups for any major festivals with maybe 80 DJs and out of them, if you're lucky, four will be women," Host says.
For a genre of music that is often described as "liberating," the women I spoke to describe the reality behind the scenes as anything but.
First, there's the topic of female DJs' appearance and branding. Hutchinson says female artists are often overly sexualized and pressured by producers to rely on looks, rather than raw talent as sound-engineers.
In response, female DJs feel pressure from other women not to be too feminine or sexy. It's a double-edged sword Discwoman wants to end. The group wants its clients to know that no matter how feminine or masculine they are, the music should always come first.
"A lot of people, when thinking they're being feminist, end up criticizing other women DJs for looking too feminine or looking too sexy. We're totally not about that," Hutchinson says. "She's doing [her set] in high heels? Who gives a f*ck? It's so easy to hate women for wanting to be feminine. People think it's weak to look like that."
One DJ the women see as a trailblazer is Nina Kraviz. Despite consistently receiving an onslaught of anti-feminist, sexist comments criticizing the artist for her feminine physical appearance onstage, she's made it on Resident Advisor's list of top 20 DJs in the world.
"She's just really sexy in the media, but you can tell she's into it and once you see her DJ, it's like all bets are off," Burgess-Olson says. "People know that name and say like, 'Oh, OK, this woman is one of the highest paid, most successful DJs and she's a woman.'"
Burgess-Olson says the more examples like Kraviz there are, the better chance of normalizing female artists within mainstream EDM.
When asked if a woman will ever reach the caliber of a Calvin Harris or an Avicii, selling out stadiums, Hutchinson says she's optimistic.
"I mean, where's the female Tiesto?" she says with a laugh. "It would be great to see someone at that level, earning as much as those f*ckers do. It's crazy."
For the most part, Discwoman has had a positive response from men. Still, male producers sometimes feel the need to give unwanted advice on how women can succeed in the industry.
"They'll be like 'I was just trying to help.' But I'm just like, 'Yea, f*ck off though,'" Burgess-Olson says.
Co-founder Christine Tran agrees, adding, "Stop the mansplaining."
The biggest hurdle for Discwoman has been fighting for equal pay for clients. The three girls ask every man they know how much they're being paid for gigs and strive to match that price when negotiating with festival and club promoters.
Discwoman has become a union of sorts, negotiating fees based on the experience and talent of each client. So far, the group has produced and curated events in over 15 cities, working with over 150 female DJs and producers.
While Burgess-Olson is fearless when negotiating fees for her clients, she still finds it terrifying to fight for equal pay when it comes to her own gigs. Before going into a negotiation, she'll frantically text Hutchinson for pep talks.
"I need her encouragement, because sometimes I feel like, 'Oh, I could do this gig for $200.' But I shouldn't," she explains.
Above all, they ask promoters to offer some type of compensation, avoiding the assumption that women will work for free because they are at a disadvantage when it comes to getting gigs. The group has a minimum for each of its clients and won't let them work without pay unless there's a charity or nonprofit involved.
"Even if you have just 50 bucks, be transparent and bring that to the table," Hutchinson says. "Give us something."
The women say they are extremely hopeful for the future. After every all-female event they throw, another interested party calls them up, asking how they can get involved in the feminist EDM movement. Tran says they want to empower young girls to believe they are creative enough to be DJs.
"Girls don't look on billboards and see a sound engineer. It's about what's in front of you and what you see is possible," Tran says. "The situation can be controlled and, if you ask for it, it can happen."
As it turns out, men are some of the biggest supporters of Discwoman's merchandise, wearing T-shirts with the organization's logo. It seems like men are starting to wear their feminism on their sleeves. Go figure.
Check out Discwoman's "Tribes" documentary.