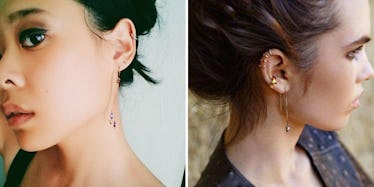 Don't Ignore Your Second Hole: How To Showcase The…
Instagram
At age 16, getting a double piercing in your ears seems like a necessity. By 20, however, you wonder why you'd ever even bothered.
With a jewelry box full of necklaces, bracelets and rings, it's easy to overlook gems for your earlobes. But summer's heat often makes wearing layered necklaces and bangles a sweaty, heavy mess. Instead of getting weighed down, start focusing on light metal decorations for your multiple ear piercings.
Don't forget about that stylish double piercing: Embrace it. Trendy minimalism has resulted in a plethora of multi-hole earrings, ear cuffs and jackets. If you've ever wanted to experiment with ear jewelry, now's the time.
Go modern, using one piece of jewelry through both piercings.
Our pick: Kathleen Whitaker, Double Post Stick Earring, $150 per
Double duty: a chain earring that doubles as a stud.
Our pick: BoutiqueMinimaliste, Bar Chain Earrings, $20
Can't find two sets of earrings? Switch to a long one instead.
Our pick: SMITH+MARA, Solid Triangle Ear Crawler, $125
Don't be afraid to get a little artsy with your earring stack.
Our pick: Baublebar, 'Tinkerbell' Crystal Ear Cuff, $30
Geometric earrings play well together.
Our pick: CatBird, Rose Thorn Stud in Yellow Gold, $90 per
Ear cuffs are always a stylish choice, especially when paired with a sleek partner.
Our pick: KYYOTE Minimalist Earrings, $80
When in doubt, know that delicate is always better.
Our pick: & Other Stories Dangling Rhinestone Pendant Earring, $20
Make sure all your earrings fall into the same aesthetic family.
Our pick: Madewell Mix-And-Match Bar Stud Earrings, $30
Prefer pearls to a modern look? That's okay, too.
Our pick: Covet Faux Pearl Ear Jackets, $40