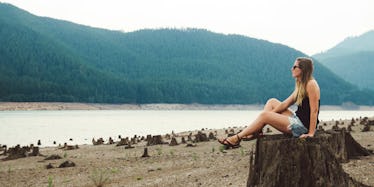 This Duke Freshman Girl Decided To Become A Porn Star, And After Reading This, You'll Understand Why
Stocksy
When you think about porn, probably one of the last things that comes to mind is "empowering."
But Duke University freshman Lauren A. says her experience in the adult film industry has been nothing but.
"I can say definitively that I have never felt more empowered or happy doing anything else. In a world where women are so often robbed of their choice, I am completely in control of my sexuality. "As a bisexual woman with many sexual quirks, I feel completely accepted. It is freeing, it is empowering, it is wonderful, it is how the world should be."
Lauren (another pseudonym — her on-screen name is Aurora) started doing porn to pay for college, but said she came to find a community that was accepting and honest.
Unfortunately, her college campus hasn't been equally as understanding. After Lauren divulged her day job to a friend, he proceeded to tell every guy in his fraternity.
When Lauren started receiving creepily random Facebook friend requests and insults via online forums, she decided to make a strong statement about her decision to have sex on camera by explaining her secret life in an interview with the Duke Chronicle and a post for xoJane .
And what's come out of her admission, despite sending her campus into a tizzy, has been proof that porn stars can be smart and articulate, too. In her editorial for xoJane, Lauren writes about how "societal brainwashing dictates that sexuality and sex 'reduce' women" in a manner that would make Gloria Steinem proud.
"As for my professional career, I have no current plans to quit porn and I refuse to let ignorant people deprive me of the education that I have worked incredibly hard to achieve.
Lauren eloquently breaks down many levels of a woman's sexuality and the stereotypes against her. At the heart of her beautiful essay and her argument for even needing to defend herself in the first place is that "It terrifies us to even fathom that a woman could take ownership of her body."
She argues that women in porn can be exemplary women who "transgress the norm and take ownership of their bodies." But we ridicule and silence them because we are afraid of "the threat [they possess] to the deeply ingrained gender norms that polarize our society."
Lauren views herself and other pornstars as an enormous threat to patriarchy. The combination of her intelligence, education and sexual openness makes her powerful, so society reduces her and others with labels of "whores and bimbos."
But Lauren isn't out for revenge.
"Instead, what I ask for is simple. I, like all other sex workers, want to be treated with dignity and respect."
Many critics also question Lauren's nonchalance about entering the professional world with having pornstar on her resume. To this, Lauren simply shrugs and says,
"I wouldn't want to work for someone who discriminates against sex workers."
This Duke freshman is filled with words of wisdom for women, even if you have no ties to the porn industry.
"If people are going to talk about you, you might as well control the conversation and use it to start a dialogue, which in this case is about the abuses we inflict on sex workers."
Hmmm, maybe Lauren has a future in public relations?
via XOJane, Top Photo Courtesy: We Heart It