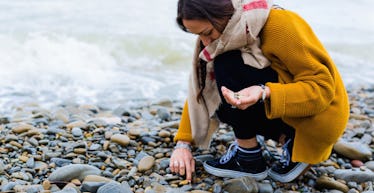 Dressing For The Office Holiday Party: How To Keep It Appropriate And Garner Respect
Office parties can be pretty entertaining. Inevitably, someone's got a story to share "around the water cooler" the next day. One of your bosses might be "over-served" and over-share about hitting on the interns, planning to fire Fred, and/or wanting to promote you (we hope). The busty accountant will probably have her lovely lady lumps on display even more so than she usually does.
An ongoing smoldering cross-cubical flirtation will burst into the fiery romance à la an episode of "The Office." But whatever stories the office gossip may include the next day, no story should have anything to do with you.
Not to be a party-pooper, but even though it's an off-the-clock event, and it feels like a different setting with everyone dressed in festive clothes and drinks in-hand, you are still working. Don't get me wrong; it is a party! You should go and enjoy yourself. But rather than an excuse to let your hair down (do that) and dance on a table (don't do that), you should look at the event as a professional opportunity.
Unlike a regular workday, you are probably going to be interacting with a larger group of coworkers, superior or otherwise. You will be making many first impressions, and even becoming acquainted with a few people beyond those first impressions. It's a work party, so work the room like you mean it.
Since you'll be working, this is no time to abandon all sense of professional attire. For men, it's easy. They can throw on whatever suit is cleanest that night, and maybe step it up or down a level of formalness and add a festive tie.
But for women, dressing for the office party is every bit of the usual minefield of professional attire. And though dressing for success will always be a balancing act (personal style vs. office culture, flattering your figure vs. flaunting your figure, dressing for the job you have vs. dressing for the job you want, etc.), it's not impossible.
Here are a few guidelines to make sure you show up at your holiday party looking like a boss...a festive one.
Watch the neckline -- or someone else will.
I don't care if your décolletage is lovelier than Marilyn Monroe's or more drool-worthy than Kate Upton's. No one with whom you work needs to know about it. Unless you are a bartender, or work in a strip club, Hooters, or any other ta-ta-centric establishment, there is no reason your coworkers should ever see your cleavage. Let me say it again (are you listening, you curvaceous coquettes?), when you're working, you shouldn't be working it. For women, one major cardinal rule is to put "the girls" away when at the office.
And on another boob-related bullet-point, for the love of Kirsten Dunst, wear a bra. It's winter and everyone already knows it's cold outside.
Ditch some of the rules (but not all of them), along with the suit.
Bare those shoulders! Raise that hemline (a bit)! Substitute your sensible pumps for a pair of strappy sandals! Just do all those things in moderation. If you're going to be tugging your dress down every time you sit and tugging it up every time you stand, it's probably too short and/or too low-cut. As is true of professional attire generally, you (and your career) are better served if you err on the side of conservative.
It's still better to be overdressed than underdressed.
Office parties are tricky because, year after year, no one ever seems to know exactly how much more formal or relaxed people dress for the event. And it's not exactly like someone sends you an invitation with a "suggested attire" memo conveniently letter-pressed at the bottom. When you show up, it's likely that you will see a little bit of everything, but if you're going to lean in one direction, you're better off overdressed than underdressed.
If you're underdressed, you look sloppy and, more importantly, you convey the message that you don't care enough about the event to make an effort. Conversely, if you're overdressed, you not only look like you made the effort, but you can also easily and casually brush off whatever comments might be made with the excuse of having another party to attend.
This conveniently gives whatever 'hater' called you out on your fancy-pants another reason to continue hating (you're just SO busy with parties, Ms. In-demand!). It also shows how much of an effort you're making and, therefore, how serious you are about your career with XYZ Company -- it says, I could be somewhere else, but I'm here.
So, yes, there are a million ways to go wrong -- but don't panic. I'm going to make it easy for you. I've got a foolproof outfit, which, with accessory styling and makeup choices, will work for just about any office party, however casual or formal it may be.
Photo Credit: Melissa Glynn Photography
I know I went on a rampage about not showcasing your assets, but there's a classy way to work your curves and it's perfect for office parties: a tight, solid-black turtleneck. It's perfect; it shows off curves, but because you're not showcasing your cleavage canyon, no one would ever suggest it's not classy. This turtleneck is perfect for this classy-sexy look and it will become, without a doubt, one of your favorite closet staples that you'll need in every color.
If you are especially bodacious/bootylicious, you risk crossing over into "male-fantasy-naughty-secretary" territory with a pencil skirt, so pair that sophisticated turtleneck with a work-appropriate bottom, like an A-line skirt. Not only is this style on-trend, but it also provides a proportional counterpoint to the tight turtleneck. This cheap and chic option and this one from boohoo.com are both great, timeless choices. This year-round floral stunner by Ted Baker would also impress coworkers.
Next, layer on some long necklaces, like this restrained piece of layered spikes, metal and sparkle or this colorful set. Alternatively, pull your hair up and show off stellar statement chandeliers like this Lulu Frost for J.Crew pair, this more affordable pair from BaubleBar, or this incredible set with a matching bracelet, which not only could be worn at any holiday party you attend, but also well into the year in countless ways.
And even with the bling, there is still plenty of room to dress this look up or down. Add a basic pair of ballet flats or classic black riding boots to keep it low-key. Want to raise the level just a bit? Incorporate another one of this season's hottest trends, like over the knee boots, to add little bit of edge and show off your stylish side. These boots from River Island are a perfect choice because their shape and height make them incredibly versatile (not to mention physically wearable!). Need to be fully cocktail party appropriate? Go for your favorite pair of sky-high heels and add a bright bold red lip.
Follow these guidelines, and you'll be dressed to impress and feeling confident at your holiday party this season!