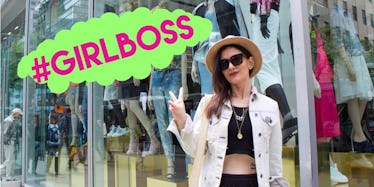 I Asked 4 Of My Favorite Stores To Dress Me Like A #GirlBoss
Celine Rahman
Fashion and style are the great loves of my life. My favorite thing about clothing and beauty products, besides the sheer visual stimulation, is their uncanny ability to get me into character.
For instance, if I'm going to a party where I don't know anyone and I'm feeling overcome with social anxiety, I'll dress head-to-toe in power leather because a babe sitting by herself at a party in black leather isn't friendless and lonely. Nah, she's cool and independent.
Right now, I happen to be in the phase of my life where I want to feel like the most powerful version of myself. That's right: I want to feel like a total f*cking girl boss.
Girl boss is a term that's empowered me since I first read my favorite badass entrepreneur, Sophia Amoruso's memoir by the same name. The book became somewhat of a bible to me. It showed me that you don't have to be traditionally educated or wearing a buttoned-up suit in order to be a boss.
I feel like a girl boss when I'm rocking a blazer paired with my personalized accessories. My accessories remind me to never to lose my identity in the work place, but the blazer makes me want to slay in business. To me, being a girl boss is about understanding how to be a grown-up without watering down your youthful edge.
But I wanted to know how different people would interpret the concept of the girl boss. What does it mean to be a powerful, professional woman in today's world? We're no longer limited to emulating masculine workwear in pantsuits and shoulder pads, but how do we transmit that we are either "in charge" or on our way there in a modern workplace?
So I decided to venture to midtown Manhattan with Elite Daily photographer (and style icon of mine) Celine Rahman to see how my favorite stores define what it means to look like a girl boss. How would different stores interpret "powerful woman"?
Urban Outfitters: "The Behind-The-Scenes Stylist"
Urban Outfitters is one of my fashion holy grails. I've been a slave to Urban since I was a pimply 17-year-old kid dreaming of my pending adulthood. Urban is a glam-grunge-hipster heaven, so I figured it would be the perfect place for the creative girl boss to shop.
They put me in culottes. I have never in my life worn culottes, and I have been very outspoken in my vehement hatred toward them. But you know what? I felt surprisingly chic in this get-up of white culottes, black mules and of course a power leather jacket. The sharp contrast of black against stark white made me feel fashion-forward, while the loose nature of the clothes made me feel like I could MOVE and get sh*t done.
This would be an ideal look for someone who is assisting on fashion shoots, working with a stylist or in any hands-on creative field that requires moving around while still being edgy. The sharpness of the black and white will get you taken seriously, while the comfortable aspect of the clothes will make it easy to get on your hands and knees and stick those pins into a model's dress.
Zara: "The Event Planner"
Obviously I shop at my namesake store, ZARA, because I like to pretend the labels inside the clothes are custom made for me (it's called narcissism, babe). That, and it's sort of the ideal one-stop-shop for adult wear. We all know there is no better place than Zara to buy a blazer that won't break the bank.
Now, do I normally wear such light colors? No. Especially when I'm #girlbossing. When in charge, I like to rock DARK or BOLD colors that will make others fear me.
But isn't the goal of this whole experiment to step out of my fashion comfort zone and open my eyes up to all the versions of professional, in-charge womanhood? So I put my trust into the stylist's very capable hands. And I have to say: While high-waisted pastel pants, a white tee (I'm too messy for white) and a long, sleeveless blazer paired with yellow kitten heels is the exact opposite of my mega-platforms and baby doll dresses, I didn't hate it!
It was extremely comfortable, and the soft colors made me feel like an approachable, helpful woman of the world. This is an outfit that would allow me to move around but still look like a super-chic adult.
Plus, the pastel pink helped make the very serious-looking pant a little more fun and cheerful. This outfit made me want to plan a party or a wedding (something about pink and white makes me think BRIDE -- what about you?).
H&M: "The Teacher"
H&M is always my go-to when I need something well-priced and chic. However, its vast array of apparel can be dizzying to my ADD, so I needed the help of a stylist the moment I walked in. Luckily, I found a lovely kindred spirit who helped turn me into an H&M girl boss.
I love a fit and flare skirt, and again, the soft color palette of the blouse just made me feel like a more gentle version of myself. I felt young and trendy without being overtly sexual. I felt like this would be the perfect outfit for a teacher who wants to connect with her younger students, while maintaining her class and sophistication.
Topshop #1: "The Badass PR Girl"
I'll confess: I'm a London girl, and Topshop is a way of life. When I think of Topshop, I think of fashionable, trendy clothes at a price that up-and-coming girl bosses can afford.
And naturally, the stylists at Topshop were super fashion-forward and helpful. This is my first Topshop-styled girlboss look:
This is something I would totally wear when I want to feel like a boss. The leotard made for clean lines, the pencil skirt was sexy but tasteful at its tea-length and of course, the black leather made me (once again) feel fearless.
I felt like a sexy PR girl who is unapologetic in her authority and absolutely unafraid to talk to anyone.
Topshop #2: "The Babe Who Works For Herself"
The moment I traded in the pencil skirt for these sequined boyfriend jeans, I felt like I transformed into a girl who is her own boss. Like I just couldn't play by the rules, so I created my own.
The black bomber jacket thrown over the shoulders just made me feel on top of my game. Nothing says "creative badass" like a chic jacket recklessly tossed over the shoulder blades. I felt like a girl who doesn't need to adhere to a dismal dress code and can really just go as her damn self.
The sequins also added a bit of sneaky glam to the situation, which displays just the right amount of effort. I think this would be perfect for a girl who has her own jewelry company or is a freelance stylist. This is for the job where the client wants you to show up looking edgy and fierce.
So what really IS girl boss style?
Our generation is forever being accused of being obnoxious and entitled, right? And yes, yes, sometimes we can be totally obnoxious and entitled.
However, we're also majorly ambitious and changing the definition of what it means to be a BOSS. We don't settle easily and have an innate refusal to conform. Whether it's with our sexuality, identity, style or career, we're a progressive generation. And our forward-thinking nature is boldly reflected in our girl boss style. Long gone are the days when the only way to look like a boss was to be clad in a suit.
There isn't just one version of girl boss style. The beautiful thing about the girl boss movement is that there are so many ways to be a girl boss. I'm not into any movement that isn't multi-faceted and includes all the brilliant girl creatures in the world.
There are so many different ways to be a woman and so many different ways to be a girl boss.
Girl boss is in the eye of the beholder. It's all about dressing in a way that makes YOU feel powerful, whether it's a power suit or torn denim or sexy pencil skirt. There is no strict formula to dressing as a powerful woman.
Also when in doubt, always rock a bit of leather. Nothing says girl boss like badass black leather.