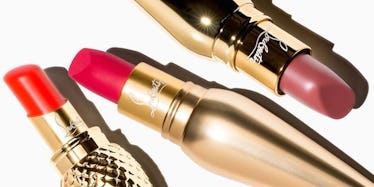 Christian Louboutin Has A New Line Of Lipsticks, And It's Breathtaking (Photos)
Christian Louboutin
The end of summer is always depressing, but at least beauty junkies have something to look forward to once the leaves change: the launch of Christian Louboutin's second beauty collection.
The famed footwear designer, who first dipped his (well-dressed) feet into the beauty pool last year with a nail polish line, is set to release a seriously luxurious lipstick collection in the fall, and from what I know, it's going to be worth saving for.
Louboutin's debut lipstick line boasts 36 shades in three different textures, each inspired by finishes on the designer's most coveted shoes and handbags: Sheer Voile, Velvet Matte and Silky Satin.
The colors in each collection vary -- save for a signature Louboutin Rouge in each as a nod to his famous crimson-soled shoes.
The packaging is equally impressive. Painstakingly crafted to be as beautiful as it is functional, each mini collection was created with a specific inspiration in mind (think: 1920s glamour and traditional oriental design).
Basically, they're gorgeous.
The pieces come with secondary caps that turn into necklaces for those of us who want to get the biggest bangs for our bucks (and, um, at $90 a pop, that's pretty much everyone).
The collection will hit Saks Fifth Avenue stores in September. Until then, take a peek at what's in store below, and start saving those paychecks.
Louboutin's lipstick collection includes 36 colors in three mini collections.
The Velvet Matte collection includes nine full-coverage matte shades...
The Sheer Voile collection includes nine shades with sheer, high-gloss finishes...
...and the Silky Satin collection includes 20 colors with semi-gloss, medium-coverage finishes.
Citations: Louboutins For Your Lips Are Here And Theyre Pretty Effin Spectacular (Refinery29)