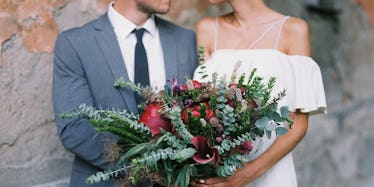 These Gorgeous H&M And ASOS Wedding Dresses Are Perfect For Budget Brides
Milles Studio
Let's face it, weddings are expensive.
On average, couples will drop nearly $30,000 on their wedding day, not including the bride's gown. For the bride, one of the most important and expensive purchases will be the dress in which she walks down the aisle in.
Throughout the dress-deciding process, she'll no doubt be told to spend at least $3,000 on a gown. As an avid "Say Yes to the Dress" viewer, I've seen one too many brides disregard their budgets in favor of $10,000 bedazzled Pnina Tornai styles.
While you should never settle for second best, there's been a surge of affordable options popping up recently. In March, retail chain stores ASOS and H&M debuted gorgeous and cheap wedding dresses. With gowns priced below $1,000, they're perfect for women who don't want to sacrifice style for price. 
For the bride who'd rather not have her dress stuffed into a plastic bag and shipped overseas, fear not. ASOS design director Vanessa Spence told Vogue each gown will be handled by a team member wearing "a white coat, gloves and overshoes to ensure that the gowns and work areas are kept clean." The brand's dresses will also be placed in bespoke bridal boxes and sent via a premium carrier service.
Looking for ways to trim your budget? Scroll through for trendy and affordable wedding wear.
Bohemian brides will look perfect in this delicate ASOS number.
Try this: Delicate Lace And Pearl Maxi Dress, ASOS, $405
The brand's Curve collection offers beautiful bridal gowns up to size 24.
Try it: Vintage Lace Button Back Fishtail Maxi, ASOS, $405
Traditional brides should opt for this demure long-sleeve Jarlo gown.
Try it: Long Sleeved V Neck Maxi Dress, Jarlo, $195
For those obsessed with lace, this Reformation dress is a winner.
Try it: Francesca Dress, Reformation, $488
Or, perhaps you'd rather show off some skin with this silk beauty.
Try it: Dima Dress, Reformation, $648
H&M debuted wedding dresses through its Conscious Collection line.
Try it: Beaded Silk Dress, H&M, $649
City Hall brides will love the line's prairie-inspired short skirts.
Try it: Silk-blend Skirt with Lace, H&M, $200
Retro brides will go crazy for ModCloth's stunning options.
Try it: For Love and Matrimony Dress, Modcloth, $300
Look like a '50s goddess in this ivory gown.
Try it: Grand Staircase Entry Dress, Modcloth, $250