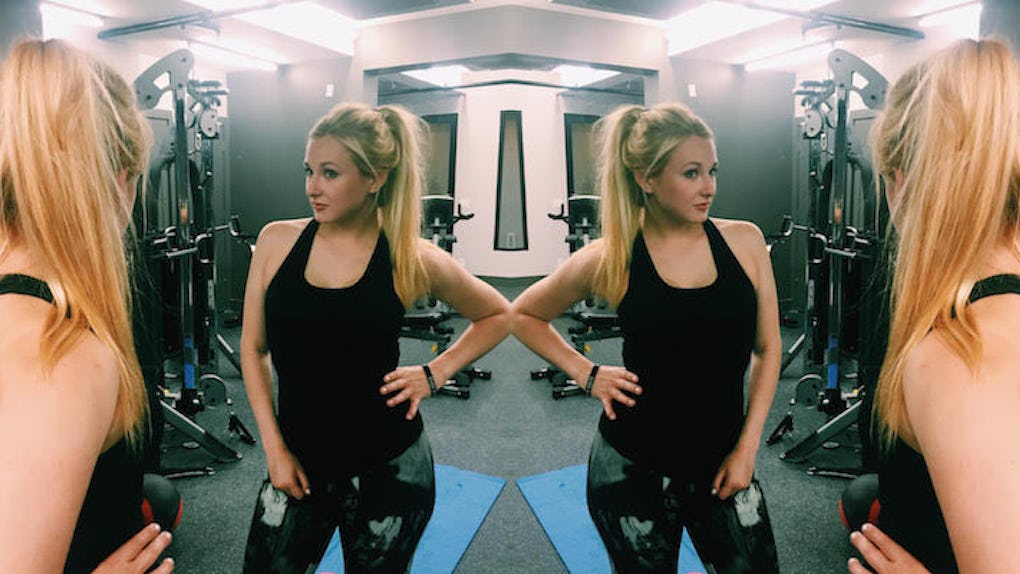 Celine Rahman
Burn Calories, Not Hard-Earned Cash With These 7 Work-Out Gear Swaps
Fitness takes dedication, perseverance and a swipe of your credit card.
Getting in shape isn't just about swapping pasta for quinoa and skipping an occasional happy hour. There's a gym membership to pay for, as well as yoga mats, workout clothing, and a gym bag.
While the pounds fall away, it often seems as if your dollars are doing the same thing.
But the hole ripped in your leggings during this month's squat challenge doesn't coincide with your paycheck, and splurging on luxury workout goods isn't doable. If it's a particular style or pattern you're after, though, there's usually a way to swap expensive purchases for something that's nicer to your wallet.
After all, every woman should have the right to Michelle Obama-style arms and Jessica Alba's abs while still treating herself to dinner with friends.
The Graphic Legging
Splurge: Nike Legendary Crisscross Tight in Blue Graphite/Black, $95
Deal: GapFit gFast Botanical Capris in Palm Print, $60
You saved enough cash for: Thursday night margaritas with your favorite coworkers.
The Floral Shorts
Splurge: Athleta Hypersonic Petal Short in Ember Orange Multi, $54
Deal: Old Navy Women's Pique-Mesh Shorts in Blazing Hyacinth, $11
You saved enough cash for: A ticket to see the band you can't stop playing on repeat.
The Strappy Sports Bra
Splurge: Sweaty Betty Sweat It Out Bra in Sunset Ombre, $65
Deal: Cory Vines Path Trapeze Bra in Onyx, $30
You saved enough cash for: Fresh art to hang on your bedroom wall.
The Yoga Tank With Sheer Details
Splurge: Beyond Yoga Endless Summers Tank in Purple Orchid, $71
Deal: Fabletics Sol Tank in White/Black, $20 (with a discount)
You saved enough cash for: A blowout in a professional salon.
The Comfiest Running Socks
Splurge: Lululemon Ultimate No Show Run Sock in Assorted Stripe, $18
Deal: Target C9 Champion Athletic Ankle Socks 2-Pack in Blue, $9
You saved enough cash for: Two iced soy lattes, please.
The Sleek Zip-Up Jacket
Splurge: Zimmia Jacket with Logo in Black, $190
Deal: Eddie Bauer Movement Jacket in Orchid, $74
You saved enough cash for: One fitness session with a personal trainer.
The Carryall Gym Tote
Splurge: Lolë Lily Tote Bag in Solidate Blue, $120
Deal: Gaiam Everything Fits Tote Bag in Teal, $60
You saved enough cash for: A cherry red gel manicure.