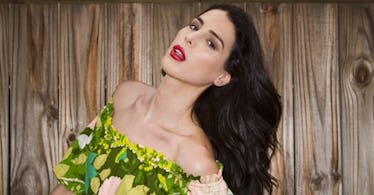 How Carmen Carrera, The First Transgender Supermodel, Made It In Fashion
As a wildly insecure, deeply closeted teen girl creature growing up in the late '90s, fashion magazines served as my great escape, for the wild and wonderful world of fashion represented the creative, diverse life I hoped to live one day. Fashion represented the life beyond the white picket fences and antiquated values of the Connecticut suburbs I called home.
And the models, well, the models were the gorgeously, exotic, diverse, beautiful entities who embodied everything fashion. They were otherworldly goddesses. They represented the fantasy of fashion.
From the exotic Alec Wek to the classic beauty Christy Turlington. From the regal Iman to the fierce Naomi Campbell. From the beautifully strange Veruschka to the cold empress Linda Evangelista... Those were, and still are, my girls.
And now I proudly add a new woman to my list of favorite supermodels: Carmen Carrera.
Carmen Carrera is the world's first ever transgender supermodel. With soft features, endlessly long hair and piercing eyes, she's a trailblazer in haute couture.
Given Carmen is my current favorite model, I can't express how excited I was to have the opportunity to chat with her. I've been a big fan of hers ever since she killed it on "RuPaul's Drag Race" season three. And watching her catapult from "show girl" to "fashion icon" has been a fascinating, inspiring journey to witness.
Within the past year, society has made some major gains regarding transgender acceptance (The fight is far from over, though, Kittens). We still have a long, long way to go, but I find it not-so-surprising that the fashion world has been quick to embrace Carmen. Fashion is always ahead of the curve.
As the late Oscar de la Renta once famously stated: "The great thing about fashion is that it always looks forward."
And Carmen is currently the woman steering the fashion ship toward a great societal change. We see things in fashion magazines before we see them out in the world. Visibility is everything. Carmen Carrera's massive media presence is changing the way mainstream America looks at gender.
As a gay woman who has always felt different but drawn toward the "mainstream," I was particularly amped to pick Carmen's brain. How does she handle the pressure of being the leader of a movement? How does she stay so strong?
I quickly learned that Carmen is a fiercely smart and soulful woman, who, in the duration of our 30-minute conversation, would throw endless gems of wisdom at me, gems that I will carry with me for the rest of my life.
*
Within the first five minutes of chatting with Carmen, I could feel she was a real girl who is not run by ego, but rather by soul.
We traced back to the early years of her life. I learned that even though Carmen may have gotten her start as a show girl, she knew she wanted to be a model since early childhood:
Right before the shower, I would always play dress-up, putting my T-shirt around my head. I would just play supermodel. I felt really alive when I would play dress-up.
After her stint on "RuPaul's Drag Race," Carmen became famous in the queer/queer-friendly community. While in the process of her transition, she decided to document her transition online. A true believer in the law of attraction, she claims it was after her transition that her dreams began to manifest into reality:
That's when my life really started.
Being open and honest about her transition is what caught the eyes of the fashion editors at W magazine. They immediately requested a meeting with her. They wanted to see who Carmen was in person. And once they did, they fell in love with her.
That fateful meeting is what threw Carmen into the fashion whirlwind: The next thing she knew, she had a 16-page spread in W magazine and a four-year contract with one of the most prestigious agencies in the business: Elite.
She claims Elite saw something inside her that she hadn't even discovered inside herself yet. Though she dreamed of modeling, she never believed it was a possibility. However, her agents could sense she attained that rare modeling potential.
"I didn't believe I could model," Carmen says. "It wasn't something I thought a show girl could do. They gave me the inspiration."
Shortly after her incredible W magazine spread, Laverne Cox made her debut as a transgender prison inmate on "Orange Is The New Black."
Suddenly, the world had two powerful transgender women in the forefront of the media. Not just in the subcultural world of the Internet, but in mainstream culture. A successful actress on television and a model with a 16-page spread in W, America could no longer ignore transgendered men and women.
Both Carmen and Laverne were booked to interview with the famous Katie Couric. Carmen describes feeling particularly inspired by the strength of Laverne:
We were both sitting on Katie Couric's couch, and she [Laverne Cox] had so many amazing things to say, it gave me a real sense of pride from that point on. After that, all chips fell into play.
Even though the fashion industry is notorious for pushing the envelope, Carmen claims her breakthrough into the world of style has been no easy feat. It continues to be an uphill battle:
I have to fight my way through. For me, it's like, well, I've got the measurements. I can model. I have experience -- it should be easy. But that's not how it is. We are dealing with big companies. We are dealing with a lot of money.
She says the struggle is not so much in working with the designers, but garnering acceptance from consumers:
If society doesn't perceive me as a woman, how can I be seen as a woman? The companies can fall in love with me, but if their clienteles don't accept me, they are putting themselves at risk of people not buying their product. These days, people are more progressive. People are coming around to the idea of acceptance. But I don't think we are at a point yet where big companies are fully embracing us.
Carmen remains positive in the face of adversity. She believes in the progression of the culture.
It's definitely changing. There have been some companies that we [she and her agents] visited initially when I first got signed that were completely closed to the idea of me modeling for them, resistant to me even going on an audition -- now it's a totally different story. With everything that's happened with Caitlyn [Jenner] and Laverne, it's really changed a lot. There is a new interest in giving us a chance.
However, that's not to say the endless rejection doesn't take a toll on someone even as strong as Carmen.
That doesn't mean it's easy on your soul or on your spirit. For someone to tell you NO when you're a clear YES -- that's difficult.
She says whenever she's having one of those days when she just wants to throw the towel in, she peels back the layers. She gets back in touch with the truth:
The truth is I've been through a lot of crap. The truth is I have a husband who loves me unconditionally. The truth is I have two daughters who look up to me and are inspired by everything I say and everything I do. The truth is there was a petition out there asking me to walk the Victoria's Secret Fashion Show. The truth is I have a team that works hard for me and keeps me going. At the end of the day, I want my legacy to be the person who never gave up and kept going. We are trailblazing. It's not easy, but if I give up, what's the point?
Her energy is so real. It's palpable through the static of the phone. I'm so moved by her strength and vulnerability that I couldn't help but ask her what she's sick of being asked? Being such a visible person in the media, being one of the faces of an entire movement, what are the questions she's ready to never answer again?
"I'm not tired of being asked anything," she responds, her voice strong.
However she is tired of being spoken to as someone who is "different."
I understand that my experiences are a little bit 'different,' but I wish people would relate to me on a deeper level and forget about the transgender angle. Because there is a deeper level we can connect on beyond my transition.
"Sometimes the way people speak to me makes me feel like an alien," she adds.
Carmen Carrera has put everything out there. She was on last season's "Couples Therapy" on VH1, which gave her a powerful platform to show Middle America what a trans family really looks like. She's an advocate for HIV/AIDS. She's in fashion. And most importantly, she lives her life openly, in a world that isn't always so kind to us women with voices and opinions.
But Carmen says it's all worth it.
I crave experience in life. I love becoming wiser, and stronger, and smarter. I feel like I'm a part of the change, and that feels good.
And for those of you who are grappling with your identity, Carmen has some encouraging words for you:
You do belong. You ARE supposed to be here, because sometimes, you get it in your head that you don't relate to anyone. You start to develop an inner dialogue. You alienate yourself. You don't participate. Remain yourself, always. Have a lot of forgiveness for people. I do have hope in humanity. It takes a lot of understanding on our behalf.
I find it beautiful that I had the opportunity to publish this article about Carmen Carrera during Women's History Month. As we take the month of March to celebrate and applaud the powerful women throughout history, we can not leave transgendered women out of the conversation. Carmen Carrera is carving out a new #herstory for our generation. She is a role model for all women. She is challenging the system, while boldly embracing her femininity.
The most powerful thing we can do as women is to keep persevering, keep expressing our voices despite the sometimes brutal backlash from our patriarchal society. And Carmen Carrera is doing just that.
Carmen Carrera is fighting the fight for all women who feel different. She is a part of a movement in history that I feel blessed to be alive to witness.