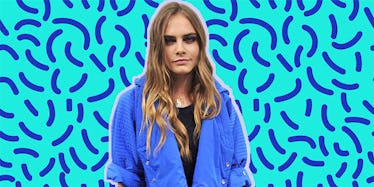 You Can Recreate Cara Delevingne's Dramatic Comic Con Cat Eye For $20
REX/Shutterstock
There are two types of women: those who slather concealer on their under-eye bags in an attempt to seem like a functioning part of society, and those who can't resist playing dress-up every day of the week.
Model-actress Cara Delevingne is the latter, particularly as she amps up for the release of DC Comics' "Suicide Squad" film.
Delevingne might be taking on the much-hyped Enchantress role starting August 5, but for right now, the real superhero of this story is her makeup artist, Molly R. Stern. The pro is working overtime to create a series of highly distinctive beauty looks for Delevingne's Comic Con press appearances.
Stern's standout creation, by far, is an electric blue cat eye so vivid that it looked like a comic book illustration escaped its page.
Instead of a thin flick, Delevingne wore the liner thick and angular. It sat in perfect complement to her legendary voluminous brows.
I can see this as a statement Saturday night look, just to switch things up.
The best part of all this is, Delevingne is a brand ambassador for Rimmel London, which means Stern used only drugstore makeup to create the pop-art eye. If you're hoping to give it a try, you're in luck: Stern's supplies total a whopping $20.
Starting with a bare lid, Stern applied a thin layer of Scandaleyes Shadow Stick in Bluffing. She drew on the sharp, angular liner with Magnif'Eyes Double Ended Shadow and Liner in Dark Side of Blue and ScandalEyes Shadow Stick in Teasing Turquoise.
The final look was regal, but edgy, topped off with a double coat of Volume Flash Super Speed Mascara in Extreme Black.
Obviously, Delevingne has the perfect skin of those favored by Anna Wintour. But, for all the regular people, your regular face routine will do.
Add on a neutral lip (Stern used Provocalips in Dare to Pink), and you're ready to take on the world.