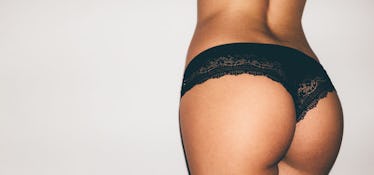 You Can Actually Get A Facial For Your Butt, And It's Incredible
I've had an epiphany. An ass-piphany, if you will.
During the long hours of a photo shoot I ran recently, I made casual conversation with the makeup artist as she used precision tweezers to delicately dot the model's lips with Swarovski crystals.
When asked what her most popular makeup looks were, she said her clients all want to feel glamorous like Kim Kardashian. It's not good enough to roll out of bed and slick on two coats of fiber mascara anymore. Women want the personal glam squad, the blowout-worthy hair and a ring light designed for flawless selfies.
It used to be validation enough for a partner or group of friends to compliment you on looking lovely. Now, with the inescapability of social media, the Internet must also OK your face and body for the day. Talk about exhausting.
Weeks later, I'm still turning over her observation in my mind. I receive emailed press pitches every day, most schilling prepackaged vegan meal plans (a la Beyoncé's) or dyes that will turn your hair the exact shade of "bronde" Blake Lively favors. A girl can dream.
Like Super Man and his aversion to Kryptonite, my particular weakness is my own derriere. After years of early '00s Internet teasing about my peach emoji-shaped behind, I'm thrilled that pop culture is suddenly eager to copy my curves, and those of so many other hourglass-shaped women.
So, when a holistic wellness center in Manhattan offered to let me try its $150 "radiant derriere" facial -- a cosmetic procedure for two cheeks that rarely see the sun -- I caved. I wanted to feel like Kim, with a camera-ready bod that's been toned to the max. I needed to know how my butt could be softer, firmer and ready for a Baywatch-style swimsuit.
Let me tell you: There's no nicer feeling than waking up on a Friday and realizing you're scheduled to have your ass pampered for an hour. I spent my commute to My Wellness Solutions looking around the train and wondering if everyone else was also scheduled for ass facials. Probably not, but it makes for an entertaining mental image.
After I was welcomed in by the center's practitioners and given a paper cup of ginger tea, I was shown to my room. I stripped my bottom half down, changing into the least flattering pair of white paper panties to ever exist. They were the surrender flag of the ingrown hair and buttne-afflicted.
As horrific as they were, the panties provided the only shred of dignity for my otherwise-bare bum. Once the procedure started, the esthetician gently pulled up each cheek to create the gentlest wedgie I've ever experienced.
Lying on my face in a darkened spa room (face down, ass up, really) my esthetician started in on her precision work. The first round was microdermabrasion with a diamond tip, which felt largely like a puffer fish sucking impurities out of my cheeks.
Then, we moved to a bamboo-based scrub so granular I felt as if my ass might peel off to reveal another layer underneath, like a molting lobster. The scrub's jojoba beads mixed with talc, rosemary and cucumber to help strip away my dry, winter skin and replace it with fresh new cells. That glow JLo loves to talk about? This is how you achieve it.
My esthetician massaged my cheeks, along with my feet and legs. I accidentally dozed for a few minutes, even though I can honestly say I've never fallen asleep with just my bare butt out before.
By the time I roused myself out of a confused daze -- heated massage tables do that to me -- my esthetician was mid-application of a collagen-based mask. It was a thick, creamy goo the salon described as "heavy," designed to plump up my behind and increase blood circulation using ingredients like seaweed and milk protein. Have you ever sat, bare-cheeked, in a snow bank? That's a little what this felt like. Deeply strange, but not painful.
As a final touch, she added a Vitamin C serum made from citrus concentrate to even out any discoloration. Before I knew it, my ass facial was over.
I reached down tentatively, not sure what to expect from such an odd hour in a dark room. What greeted my inquisitive fingertips was the softest, most velvety skin I've ever had. Secure in the knowledge that not even Beyoncé has better butt skin, I headed back to the office.
My co-workers were curious and I assured them it was only the looming HR complaints that kept me from welcoming everyone to touch this baby-soft miracle.
That Friday, I lived like Kim Kardashian or JLo and can't pretend I didn't enjoy it thoroughly. Even now, I feel a little pride when I glimpse my still-silky tush in the mirror. The treatment was unnecessary but opulent, short but totally glamorous.
Glamorous afterward, I mean. There's nothing as humbling as those paper underwear.