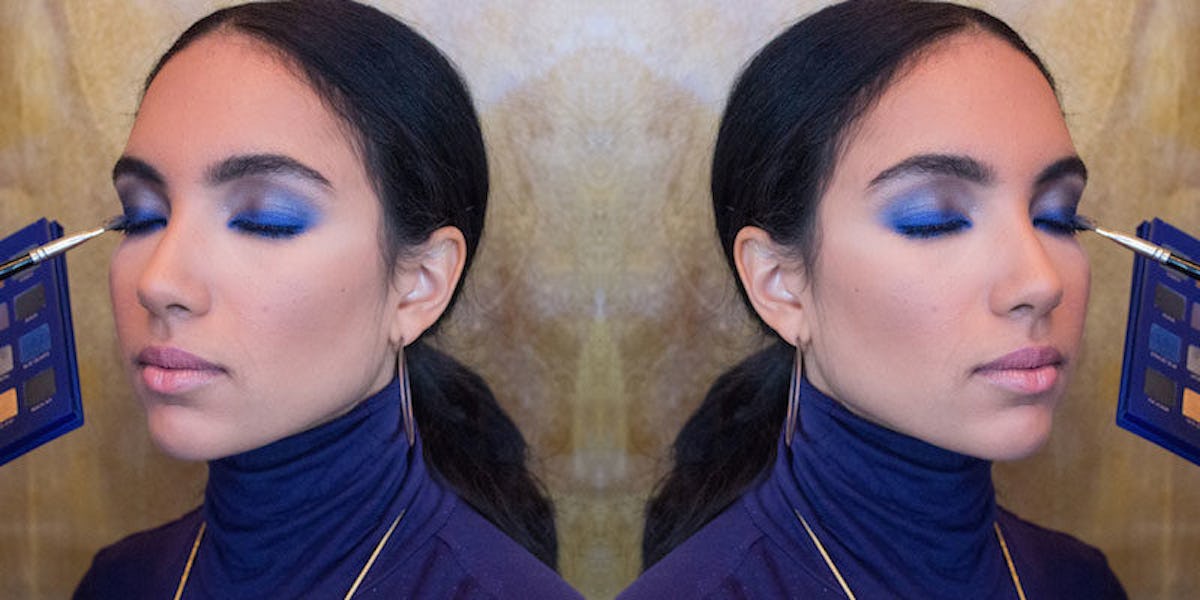 How To Wear Navy Eye Makeup Without Looking Like A Preteen At Warped Tour
Feeling blue is never a bad thing when it comes to eye makeup.
If this season's New York Fashion Week runways were any indication, the most significant trend for makeup comes in fifty shades of indigo.
And who can argue with that? Blue shadow lights up the face, making eyes look three-espresso-shots awake. For a pop of color that seems more Andy Warhol than Anna Wintour, this shadow is dominating the makeup game.
To make high-fashion look wearable, we teamed up with Dean Fournier, PRO Artist for LORAC. Using the brand's highly covetable new MegaPRO 2 palette, Fournier crafted three looks that'll have you seeing blue, from your morning coffee run to your cab ride home.
To begin, prep your complexion and get ready to work. Don't forget to finish up each look with a final swipe of mascara.
Try hyper-cool blue liner for a flash of subtle color.
To pull off the blue trend without looking a kindergartner, try this take on pop-art runway makeup.
Beginning with a warm neutral shadow (Fournier used LORAC's Burlap), brush pigment across the full lid and crease. Follow with a nude, shimmer shade, patting it into the center of the eyelid.
Using a malleable navy liner, like the brand's Front of the Line PRO Eye Pencil, line the inner corner of the eye. Focus on staying close to the tear duct. Move to the outside of the eye, drawing a small wing onto the edge of the top lid.
Get retro with an inspired take on your wacky aunt's favorite blue shadow.
To create a look that won't remind our parents of their prom photos, we turned to the blue color wash Diane von Furstenberg's models wore down the runway.
Coat your brush with a silver metallic gunmetal shade, applying it across the lid and into the crease. Follow with a pure blue (similar to LORAC's Blue Quartz) on the outer edge of the eyelid and blend it all in using tight circles.
Finish the look by applying a turquoise-tinted liner to the inner corner of the eye and bottom lash line.
Play the vixen with a smoldering navy take on the classic smokey eye.
We confess, this look is pulled almost directly from the Instagram archives of Kardashian fashionistas Kim and Khloe. Once we spotted the sparkling look, we just couldn't live without trying our own take.
This makeup begins unconventionally with the eyeliner. Using your dark, navy blue pencil, liberally apply pigment both above and below your lower lashes. Repeat this step on the upper lash line, smudging the edges so they blend into the shadow.
Then, use a small shadow brush to apply an electric blue shade on both your lash line and eye corners. Blend as much as you can.