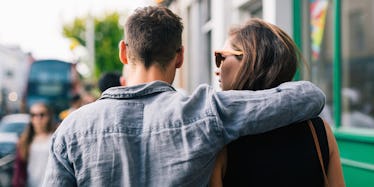 How Beyoncé's VMAs Performance Conveyed A Clear, Feminist Message
Last night's MTV Video Music Awards were all about the power of female performances. Taylor Swift told us to shake off the haters, Nicki Minaj convinced us that twerking is accepted again, Iggy Azalea showed us that her live rapping is just as good as any man's, and Ariana Grande and Jessie J proved that they are two true vocal talents.
Still, I think we can all safely say that Beyoncé stole the show. Once again. Always. Forever.
This time, there's no denying the message Beyoncé set out to convey. As she sang the medley of familiar songs from her recent self-titled album, I couldn't help but sing along.
In "Blow," she preaches about how to please a woman; in "Partition," she talks about feminists loving sex, and of course, in "Flawless," she advocates for equality for women in the workplace.
During the performance, writer Chimamanda Ngozi Adichie's words lit up behind Beyoncé:
We teach girls that they cannot be sexual beings in the way that boys are. We teach girls to shrink themselves, to make themselves smaller. We say to girls, you can have ambition but not too much. Aim to be successful, but not too successful otherwise you will threaten the man.
The messages Beyoncé aims to communicate in her music are not subtle: She's proud to be a woman and encourages other women to also feel proud and to voice their opinions. With a strong feminist presence, it comes as no surprise that there was some backlash to her performance.
People wondered why she was dancing provocatively and wearing very little clothing while singing sexual lyrics. Well, the reason is simple: Feminism is about a woman's choice; the ability to choose to be whomever you want to be, without influence or demand or approval from a man or any other person.
Why should it be considered shameful to be sexy if that's what you want to be? She's not being objectified and exploited; she's choosing to be a woman — a modern woman, at that. Hence the term, modern feminist.
Society should remember that the core of feminism reflects the ideal to not feel or be subservient to men. It promotes earning equal pay, having control over your own body and being treated fairly in the workplace. It's about having respect for and from men and women.
It's about choice. It's not about pretending that we don't recognize the physical differences between men and women and that the way we saw feminism in the past is different from how we see it today. Teenagers today are in a very different place socially and economically than they used to be.
Cheers to Beyoncé for continuing to inspire young girls to believe in themselves, love their bodies and feel gratitude and importance in their lives. There was no better way for Beyoncé to prove her point than to have her husband and baby cheering her on in the audience. Bravo, Queen Bey, keep doing your thing.