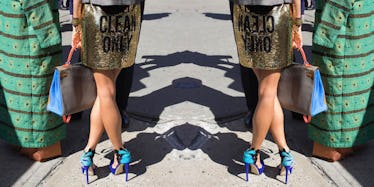 The Best Of NYFW: Street Style Fashion You Can't Miss (Photos)
From chic blacks to colorful bolds, this season's New York Fashion Week had very little boundaries (would you expect anything less?). But it's not just the clothes on the runway grabbing our attention.
With fashion bloggers and notable attendees, street style has become just as inspiring as the designer's collections.
Check out the best roundup of street style fashion from NYFW Spring/Summer 2015.
Playful Patterns Are Poppin'
Pink Don't Stink
Fringe With Benefits
Florals For Spring? Riveting.
For When It's Laundry Day
A Few Tricks Up Her Sleeve...
Updated School Girl
Fringe At Work
Bird Flu Is Back
...So Is John Lennon
Ring Around The Rosie
Does Your Fringe Hang Low?
Stars And Stripes Forever
In The Navy
Sisters Are For Life
When In Doubt, Dress Like Anna
Colorful Coats
Killer Blowouts Are A Must
It's All In The (Patchwork) Details
Ladies Who Lunch Society