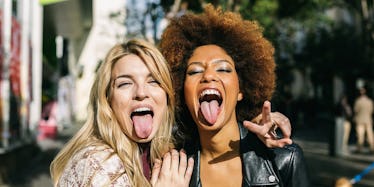 7 Grown-Up Best Friend Necklaces You'll Both Actually Want To Wear
Remember those middle-school days of yore when you'd go halvsies on a "best friends" jewelry set with your favorite buddy? Maybe you were a particularly generous youth, opting to splurge on a set yourself and then gift the other half to your BFF.
Either way, we can all agree it was better to be the "BE FRI" than the "ST END," right?
Whatever the case, we're advocating an adult-variety revival of the elementary school trend. Everything else from the '90s is back, after all. You can start with these modern versions.
For Your Best Bitch
Bitches have friends, too.
This one's sold as one and then you snap it apart before handing the other half over. It's available at Internet superstore Shop Jeen, which you're likely to get sucked into for at least an hour. Click with care.
Buy it: Shop Jeen, Break Apart Best Bitches Necklace, $44
For Your Stoner Sidekick
These aren't technically necklaces, but there's nothing stopping you from stringing them onto a chain.
Sara M. Lyons, illustrator and purveyor of all things kitsch-meets-pop-culture, is the creator of this weed enthusiast pin set. At about 3/4-in tall, they're tiny and feature soft, shiny enamel with glittery details.
Buy it: Sara M. Lyons, "Best Buds" Enamel Pin Set, $12
For Your Potty Humor Partner-In-Crime
The best part about these polymer poo and toilet paper charms? When someone asks you why you have them, you can say that your BFF is the poo to your TP, or the TP to your poo.
Buy it: Etsy, Poop and Toilet Paper Friendship Charms, $16
For Your Far-Away Friend
You wear her state, she wears yours. You can have these personally engraved with your BFF's name, or whatever word or phrase you want.
Buy it: Etsy, Custom-Engraved State Pendant Necklace, $32
For Your Pizza Posse
Need a way to show your allegiance to more than one BFF? Have everyone in your crew purchase a slice of this gold plated pizza and wear your pie piece with pride. You can also find lots of versions on Etsy that fit together to form a complete pie.
Buy it: Lazy Oaf, Gold Pizza Necklace, $16
For Your Swearing Sailor Sister
This one's for all those friendships that are so tight, the f-word must be used as a descriptor. Or, maybe you're both just fond of swearing.
Buy it:  In God We Trust, BFF Necklace Set, $180
For Your Actual Cat
We're going there, and so should you. This "I Heart My Cat" and "I Heart My Human" pendent set lets you proudly display your cat lady status for the world to see.
Buy it: Kate Gabrielle, BFF Pendant And Necklace Set For You and Cat, $20
What childhood accessory should we bring back next? Slap bracelets?