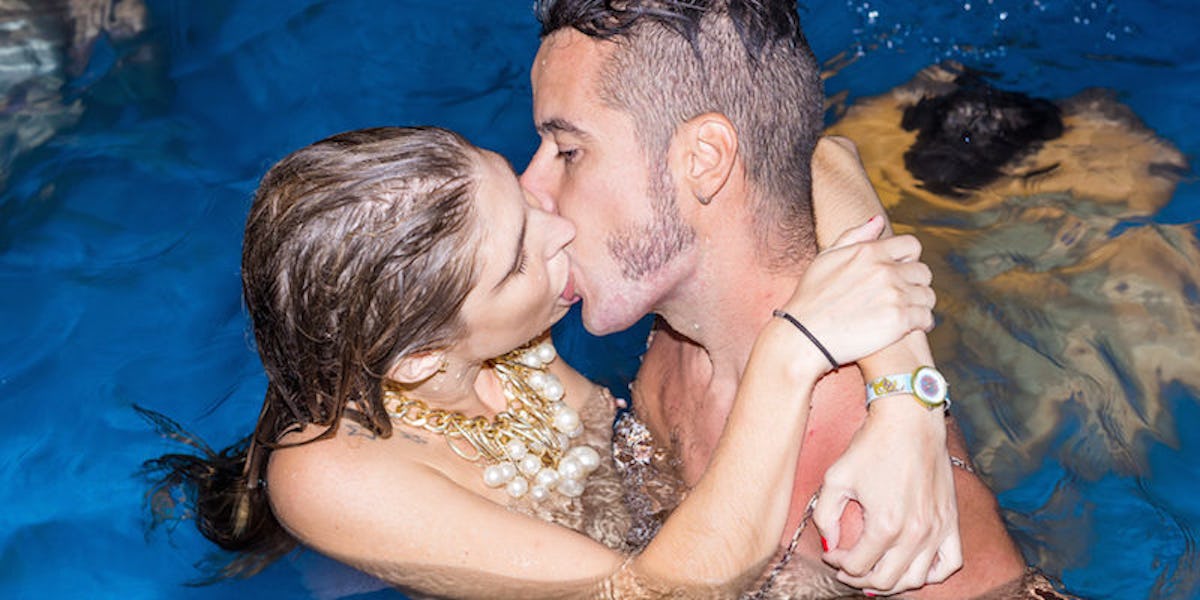 7 Erotic Novels You Should Read To Keep Your Libido Burning
"I just don't feel like it anymore," my friend said in response to my question about her sex life.
In a series of texts that followed, she explained she was just sexually tapped out. Though her dating life was pretty healthy, her interests in intercourse were dwindling. She wasn't tired or overworked; she just wasn't overjoyed.
I couldn't judge her, though, since I've been there myself.
I've experienced week-long spans of sexual disinterest. Not even a shirtless Michael B. Jordan can arouse my lady loins when I'm too tired or mentally blocked to care about climaxing. But, like a true friend who escaped the feeling of being sexually underwhelmed, I suggested the perfect remedy: porn on paper.
Reading about sexual trysts and forbidden desires can recharge your libido. Erotica writers reawaken parts of our minds and bodies. Let's be real, reading a love story with a steamy plot is more arousing than "The Joy of Sex."
Keep your love lit with some of my favorite dirty romance novels.
When you yearn for more than vanilla sex, Megan Hart's got you: "Dirty" by Megan Hart
"Dirty" by Megan Hart, $14, Amazon
These days, you can't talk erotica without mentioning "Fifty Shades of Grey." Seriously, though, we're over it. Thankfully, Hart puts a refreshing twist on the stale Ana-Christian dynamic.
Elle, the protagonist in this steamy novel, is a damaged woman who delves into countless sexual endeavors, doing her best to remain emotionally detached. As fate would have it, her immediate attraction to Dan, a lawyer, threatens to unravel her.
When you can't even think about sex, Zane can restart your desires: "Addicted" by Zane
"Addicted" by Zane, $9, Amazon
Wife and mom Zoe Reynard is a sex addict spiraling down into her dark, forbidden desires. The torrid tales of this nymphomaniac will suck you into every passionate breath and secret sex party. The best part is her extramarital affair with an equally sex-charged artist.
Don't watch the movie version of this sensual story, since it's not as detailed as Zane's written words. Instead, dive into the novel, and don't be surprised when your sex drive is roaring after the first few chapters.
There's so much sex in this book, you'll be forced to go out and get some for yourself.
When you're scared of your lesbian fantasies, let Eric Jerome Dickey guide you: "Between Lovers" by Eric Jerome Dickey
"Between Lovers" by Eric Jerome Dickey, $11, Amazon
Since "lesbian" is the most searched term by women on Pornhub, sensual lez literature could be the secret to a dull sex drive.
Nicole, a successful career woman, never looked back after exploring the boundaries of sexuality with her hubby. Now in love with her ex and her new female lover, she's torn between two sexually explicit worlds.
Free your own libido with this steamy, thrilling tale about sexual liberation.
When you're lusting after someone who's off limits, count on Vladimir Nabokov: "Lolita" by Vladamir Nabokov
"Lolita" by Vladomir Nabokov, $8, Amazon
We all understand wanting something we can't have.
Nabokov's controversial tale of an older man's obsession with an underage girl might ruffle your feathers. Still, this slow-burning classic will stir the part of you that craves the forbidden fruits of lust -- for the first half of the novel, anyway.
When you have performance anxiety about your first time with someone new, Judy Blume assists: "Forever..." by Judy Blume
Forever... by Judy Blume, $7, Amazon
Blume catapults you back to that first time you fell in love, and the sexual curiosity that comes with it.
Katherine and Michael's love affair will reawaken your libido, while Katherine's feelings for Theo will have you examining the intimacies of a new physical connection.
When you're shy about an unfamiliar sexual situation, revert back to your younger self and explore with wild abandonment.
When you don't feel sexy, Tiffany Riesz reawakens your inner vixen: "The Siren" by Tiffany Riesz
"The Siren" by Tiffany Riesz, $9, Amazon
The sexual tension between Zachary Easton and Nora is so palpable, you may start playing with yourself. As Nora tries to pen her most successful erotica to date, her editor Easton assumes complete control.
The erotica inside of an erotic novel is meta, which can seem a little too obvious. But, the attraction between these two is deliciously seductive.
When you're bored with your sex life, Nicole Williams arouses your wild side: "Crash" by Nicole Williams
"Crash" by Nicole Williams, $6, Amazon
Don't side-eye this young adult fiction. Remember the days when any attraction completely sidetracked you? Crack open this tale of Lucy Larson, a burgeoning ballerina, and Jude Ryder, the bad boy, to remember what it feels like to fall inconveniently in lust. As Lucy wants what she shouldn't have, you'll also be yearning for more.
If you find your sex drive running out of gas, kick your coital desires back up with these novels. I swear by them, and so does my sex life.