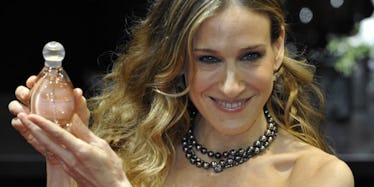 The Top 5 Celebrity Perfumes That Actually Don't Smell Like Ass
REUTERS/Philippe Wojazer
As picky as I might be with the beauty products that land on my desk, I'm even worse with perfume. I only have a handful of perfume, rotating them on a regular basis. It takes some serious magic to end up on my fragrance tray.
While I prefer the company of Marc Jacobs and Tocca, I occasionally make exceptions for lesser-known brands like Mermaid Perfume and Distillery General. The one thing that hasn't landed a spot on my vanity yet, though? Celebrity fragrance.
I don't know what it is with celeb-made scents, but nearly all of them smell like an Edible Arrangement mixed with sadness and "Dancing With The Stars." They're always too fruity, too floral and just too try-hard. The best scents, in my opinion, are delicate and lingering, not nauseating from the first whiff.
With this prejudice in mind, I set out to find a celebrity fragrance that I didn't totally hate. There had to be one out there, right?
I was pleasantly surprised.
If you like fruity scents, try RiRi by Rihanna.
RiRi by Rihanna, $25, Amazon
Notes: Mandarin, rum, cassis and passionfruit
I expected Rihanna's signature scent to be bottled cannabis, but it's surprisingly refreshing. I'm not fan of fruit fragrances, but this is light and has enough woodsy tones to balance out any initial sweetness.
Lovely Sheer by Sarah Jessica Parker, $23, Amazon
Notes: Orange flower, bergamot and mandarin
Florals always smell like too granny-like for me, overpowering and kind of wilted. Sheer Lovely, which goes on sale in June, remedies that by balancing fresh aromas with musk and amber scents.
The bottle is also ultra chic, unlike those of other celeb fragrances (here's looking at you, Nicki Minaj).
If you love woodsy scents, try RISE Beyoncé.
RISE by Beyoncé, $15, Amazon
Notes: Apricot, bergamot, jasmine and orchid
Obviously, Beyoncé can do no wrong. This fragrance is an example of just that. It's earthy without smelling muddy, and has just enough of a spicy kick to keep it interesting. Plus, "iced basil sorbet" is one of the top notes, and that sounds delicious.
If you prefer to smell fresh, you need Glow by JLo.
Glow by JLo, $13, Amazon
Notes: Jasmine, musk, rose and neroli
Who can forget Glow? I used to douse myself in this stuff back when it came out in 2002. It smells like clean skin mixed with the beach and something sexy. As a 12-year-old, this sh*t made me feel like I was hot stuff. It's precisely the kind of throwback I need.
True Reflection by Kim Kardashian, $28, Amazon
Notes: Chocolate orchid, patchouli, night-blooming gardenia
This fragrance is my dirty little secret. I never own up to ever wearing it, but still spritz the scent on when I want my perfume to have a bit more of a kick than usual. This thing is basically patchouli in a bottle, mixed with some tell-tale celebrity fragrance sweetness and white florals.
No matter what your fragrance profile, there's a celeb fragrance out there for you.
Just don't wear one that reeks of desperation.