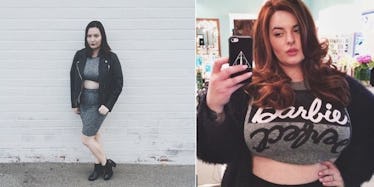 #RockTheCrop: Women Fire Back After Blatant Fat Shaming In Oprah Mag
Instagram/Twitter
People are not happy with O, The Oprah Magazine right now.
In a recent issue, the magazine's creative director, Adam Glassman, answered a question about wearing crop tops by insisting only those with flat bellies should attempt to rock the trend.
The body-shaming answer prompted immediate backlash on social media, with many people expressing disappointment in the women's magazine's choice to include Glassman's ill-conceived response.
But on the other hand, the positive movement the comment spawned is both moving and inspirational.
Fashion blogger Sarah Conley took to her website, Style IT, to pen a reply to the fat-shaming advice.
I'll wear a crop top any day I like, and I don't need your approval to do so, O Magazine. No shame in my game. pic.twitter.com/ELBzuUE9i8 — Sarah Conley (@styleit) July 8, 2015
Conley wrote, "I was shocked to see this kind of body-shaming language from any magazine."
.@TheRealAdamSays I emplore you to give me the opportunity to show your readers of all sizes how to rock the crop, flat stomachs or not. — Sarah Conley (@styleit) July 8, 2015
She asked her followers to take pictures of themselves wearing crop tops and post the photos to social media, along with #RockTheCrop.
Love to #rockthecrop? Tweet or tag me on Instagram in pics of you in a crop top for a post I'm working on! pic.twitter.com/AJkfSg5qXg — Sarah Conley (@styleit) July 8, 2015
Conley's campaign quickly gained traction across several social media platforms.
@styleit there is nothing I like better than to #RockTheCrop pic.twitter.com/AmJnYXzbsL — Becky Barnes (@mrsbebeblog) July 8, 2015
People of all sizes and shapes are now participating…
it's ok, ur boyfriend can pull it off for me. pic.twitter.com/GQIkMEiDQo — stella (@stellaboonshoft) July 9, 2015
...and it's exactly what Conley hoped for.
Oprah's magazine says you have to have a flat stomach to wear a crop top ? pic.twitter.com/FCxf3MZxDj — Currently eating (@rootbeerfloot) July 9, 2015
Even Tess Holliday, the plus-sized model behind #EffYourBeautyStandards, joined the movement.
Dear @Oprah anyone can wear a crop top. #effyourbeautystandards pic.twitter.com/ouAwrj8It5 — Tess Holliday! (@Tess_Holliday) July 9, 2015
The magazine has yet to comment on its hurtful faux pas…
damn, @O_Magazine. i hate it had to be you. #effyourbeautystandards. #rockthecrop. pic.twitter.com/G5UHFVb6v1 — Bee. (@thedfff) July 8, 2015
...but it certainly learned its lesson.
Dear @Oprah @O_Magazine , Why Yes I Can Wear a Crop Top http://t.co/bca7DwZJJr #RockTheCrop pic.twitter.com/ycKuNc35AR — Misti Schindele (@entertainista) July 8, 2015
People will not be silenced and will not be shamed.
Dear @oprahmagazine, my stomach is far from flat & I'm wearing a crop top! And it's see-through, oh my! #rockthecrop pic.twitter.com/BBWwQDKNhL — Amanda Allison (@Amanda_Allison) July 8, 2015
Just continue to #RockTheCrop!
Citations: Body Shaming Advice In Oprah Magazine Has Resulted In A Badass Movement (BuzzFeed)