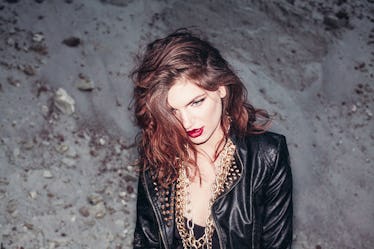 These Ads Perfectly Capture The 'Madness' Of Beauty Standards For Women (Photos)
Stocksy
There's a new trend in ads targeting women: Instead of appealing to their shopping prowess in an attempt to get them to buy certain products, advertisers and brands are going more inspirational and empowering route to get women's attention.
First there was the "Sorry Not Sorry" ad reminding women to apologize less, followed by the "Like a Girl" commercial that set out to prove how girls are just as good as the guys.
Now this "Stop the Beauty Madness" campaign has jumped on the bandwagon, producing images that seek to show women that their value isn't tied to looking better.
Taking on moronic trends like the "thigh gap," the 25-ad series seeks to highlight the "madness" that's involved in determining and meeting these unattainable beauty standards.
And rather than just criticizing the way we've come to assess beauty, the "Stop the Beauty Madness" questions the overwhelming value that we put on beauty in the first place.
Robin Rice, the founder of this project, said she wanted to pursue this provocative idea to challenge how women have become so concerned with the superficial standards, instead of the important stuff.
My main mission is to say if women are worried about their weight and their looks to the point that they're not actually putting themselves in the world, then we're missing out on some really extraordinary individuals and some really important conversations we need to be having. Women need to be helping the world move in a more beautiful direction — a genuinely beautiful direction.
These ads are a reminder of just how diverse and different women can be, and make its viewers focus on the innate instead of the artificial.
H/T: Huffington Post, Photos Courtesy: Stop Beauty Madness