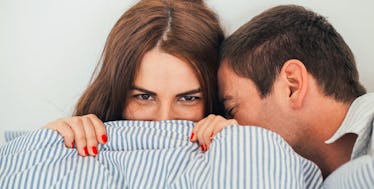 The Bare Campaign Encourages Women To Love Their Bodies, No Matter What (Photos)
Stocksy
This is the Bare Campaign, a female empowerment movement based off the simple belief that "a woman's worth goes beyond her beauty."
The Women Enough organization started the campaign, which aims to send positive messages to counter the damaging social cues and media actions that lead women to hate their bodies.
The Bare Campaign seeks to improve female self-esteem by reminding women that by sharing their feelings and experiences, they will gain a better understanding of their individual and collective worth. According to founder Michelle Fetsch,
[Women] were longing for the freedom to feel good in their own skin. They were longing to own their worth far beyond their beauty. They were sick of media as usual and they wanted to stand up for creating positive, realistic and empowering messages in the world.
By featuring women in a series of nude photographs, the Bare Campaign seeks to accomplish just that. The campaign hopes that by putting forth images of real, unPhotoshopped bodies, women will learn to love and accept themselves exactly as they are.
The idea incorporates the opportunity for any interested woman to participate. With an "I'm In!!!" button on the website, women can submit their information and inquire about being photographed in the next nude session.
The Bare Campaign seems like a refreshing organization that focuses on the positive aspects of women's bodies as well as their self-ownership and independent decision-making processes.
via Women Enough, Photos Courtesy: Women Enough