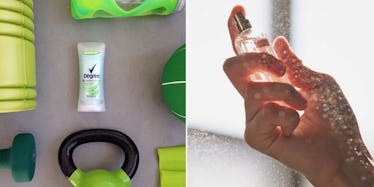 No Sweat: The Post-Workout Beauty Products You Need To Smell Wonderful
Instagram
Let's face it: After intense, heart-pumping cardio, our sweet-smelling, feminine pheromones transform to foul odors that'd make any person in close proximity upchuck.
Morning hours spent on primping and pulling ourselves together are suddenly made null and void by a sea of Russell Simmons-style sweat, leaving our hair dirty and skin stickier than pre-coital play.
Men get passes for smelling like walking locker rooms. But women? Not so much.
Therefore, packing appropriate items in your gym bag is crucial for any post-workout adventure and ensure you won't arrive smelling like a trash bag.
Since your post-workout plans most likely involve sharing your personal bubble (straphangers included), follow your sweaty, calorie-scorching session with a fresh re-up of these 14 beauty products.
Seriously, be courteous and keep stale stenches on low.
Mane Spa: Make It (Un)Dirty
Few things are worse than explaining that it's not NYC's expected summer stench, but your sweat-coated mane that's turning stomachs.
Squeeze in a quick cleanse of your strands post-cool down, lifting buildup enough that your tresses won't reek, even if you can't do a full wash.
Don't want to use faux-poo for your locks? Opt for a leave-in conditioner.
Try: Batiste Dry Shampoo, $7, Amazon; Paul Mitchell The Conditioner, $23, Amazon
Smell better: Viktor & Rolf Flowerbomb Hair Mist, $53, Sephora
Face Time: Make Me Over (Again)
So, you thought barre class would be a breeze? Instead, you're drenched in exercise excretions that have crusted up across your mug.
Break down those sweaty layers with gentle cleansing facial cloths, blasting toxins and unclogging pores.
Add moisture back to your skin with a SPF-sporting moisturizer and give your lips a touch of smooth balm.
Reach for makeup if you're off to a glam-worthy event. But if not, opt for fresh-faced au naturale.
Try: Murad Clarifying Wipes, $15, Amazon; Burt's Bees Wild Cherry Moisturizing Lip Balm (2 Count), $5, Amazon
Smell better: Mario Badescu Facial Spray, $14, Amazon
Body Party: Wipe Me Down
If you're not a high-class gym membership holder, skip –– don't hit! –– the showers.
Obliterate post-workout funk bird bath-style, using purifying cleansing cloths that wipe away germs and funk.
Next, spray your body with a scent you can stand.
Steer clear of reliving your Love Spell glory days and mist your bod in a subtle-but-strong scent.
Try: güd by Burt's Bees Pearanormal Activity Natural Cleansing Wipes, $5, Amazon; Coconut Milk Body Lotion, $4, Amazon; philosophy Amazing Grace Body Spritz, $24, Amazon
Smell better: Tocca Beauty Giulietta, $15, Amazon
Armpit Patrol: Deo For Your BO
Hit your pits with underarm artillery that's built to block strong odors after excessive activity.
Whether you want to spend ridic amounts on luxe concealer for post-workout mustiness "Ballers"-style or cop a cash-friendly alternative, be sure to shield your pit-stink after that 90-minute hot yoga sesh.
Friends will thank you.
Try: Degree MotionSense Shower Clean Anti-Perspirant & Deodorant, $6, Amazon
Smell better: Fresh Sugar Roll-On Deodorant, $27, Amazon
Kitty Care: Rosebud Bath
Our budding flower never catches a break, especially not after high-intensity fitness.
Tap your diamond mine with wipes that'll show your precious pearl a little TLC before you can shower properly (ASAP!).
Keep any sushi scent at bay by spraying extra love in that direction for added funk protection.
Try: Summer's Eve Cleansing Cloths For Sensitive Skin, $7, Amazon
Smell better: Summer's Eve Deodorant Spray, $7, Amazon