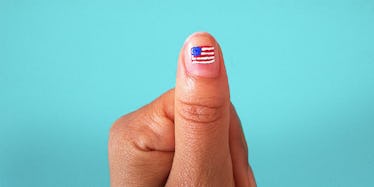 Nail Your Fourth Of July Look With This American-Inspired DIY Manicure (Photos)
You've been waiting all summer to show off your bod in that American flag bikini, but let's be real — your look isn't complete unless your nails are done. It's easy to keep painting your nails the same colored red, white and blue, but why not switch it up and let your fingertips have as much fun as your bikini?
Here are four different ways you can upgrade your mani for Independence Day.
Independence Day French Tip
Outline your natural French tip with blue. Make sure the outline is thicker than normal so you can lay the red on top evenly.
Make sure you wait until the blue is completely dry before applying the red, otherwise you'll have purple tips. If you feel impatient and this happens, just wait for it to dry then layer the red tip again.
The Hamburger
First things first: lay down your meat.
Be sure to include your veggies: tomato on top, lettuce on bottom. (A nail pen is suggested for drawing lettuce but not necessary.)
Suns out, buns out! (Again a nail pen is suggested but not necessary.)
Seal the deal with the bottom bun.
American Flag
Paint two red strips to create a rectangle shape as the base of your American flag.
After the red has dried, steadily stroke half of the left corner of your red rectangle with blue. Then use a white nail pen to draw in your stripes.
 Red, White and Blue
Start with painting your entire nail white. Once the white has dried, paint a red stripe on one side of your nail. (Be sure to leave room in the middle for your white stripe.)
Finish off with a blue stripe on the opposite side leaving a comfortable amount of space for your white stripe.