Overexposure to sun rays is as unnecessary as men commenting on women's sports.
According to The Skin Cancer Foundation, overly basking in the sun can cause long-lasting damage to the skin (think fine lines and wrinkles) and ups repeat offenders' chances of skin cancer.
Recent studies reveal only 29 percent of women apply sunscreen regularly, leaving the forgetful few to roast like chickens at KFC.
Whether you bunker down in a concrete jungle or spend your off days beaching, be sure to soak up your vitamin D responsibly.
But if you're already a burned-out trainwreck à la Amy Schumer, look no further than your kitchen or medicine cabinet for a sunburn cure.
Here are five almost all-natural reliefs for curing your skin after you've been cooked.
1. Mad-Real Remedy: Advil
Burn Notice: Over-the-counter Ibuprofen can extinguish mild burns, soothe swelling and calm redness and sensitivity of the affected area. Robert Friedman, M.D., a dermatologist at New York University's Langone Medical Center suggests Tylenol if a headache or mild chills are additional symptoms.
Beat The Burn: Sun Bum Continuous Spray Sunscreen, $15, Amazon 
2. Paste-y Potatoes
Burn Notice: Who knew spuds could turn down your red hot epidermis? Murphies' pain-relieving properties draw out heat and douse pesky, never-ending stinging sensations.
Grind a few starchy stems into a paste (add water if needed) and smoothly pat the potato mixture onto the overcooked skin.
Let dry and gently wash off with cool water, repeating periodically until the burning is a distant memory. Repeat more times than "Maid In Manhattan" reruns.
Beat The Burn: Kiss My Face Face Factor Sunscreen, $7, Jet
3. Milk Bath
Burn Notice: Make like an Oreo and dunk yourself in lukewarm milk (2% is preferred) and bathwater, sorry, vegans!
Don't have gallons of dairy storing in your fridge? Make a cold compress that cools your scorched skin's heat and coats your burn with anti-inflammatory proteins to soothe the sting.
Beat The Burn: Erbaviva Sunscreen SPF 30, $23, Amazon 
Go Inside Out With Pomegranate Seeds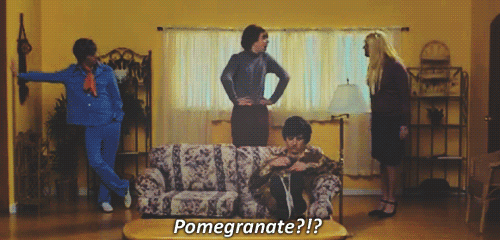 Burn Notice: Before swimming in SPF, suck down the seeds of this exotic fruit habitually to block UV rays from within.
Packing more antioxidant punch than Mayweather, Pom arils provide an added layer of sun protection.
Beat The Burn: Shiseido Urban Environment Oil-Free UV Protector Broad Spectrum SPF 42, $33, Sephora 
 5. Relief Greens
Burn Notice: There are a few ways your salad can double as a sunburn aid. First, toss some leafy greens like lettuce or cabbage into boiling water to draw out liquid pain-killing properties.
Strain and cool your green juice before drenching a cloth and covering your scorching skin.
Alternatively, crush lettuce leaves into a paste and spread across the burns or blisters.
Beat Your Burn: Coppertone Continuous Spray Sunscreen SPF 50, $11, Amazon