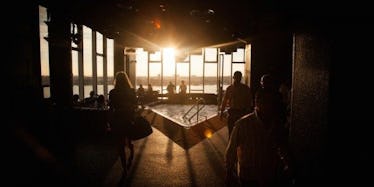 The Inside Scoop From Famous Make-Up Artists: How To Look Like A Celebrity In Your Own Home
Stock
Between tabloids, TMZ and television, we are a celebrity-obsessed culture. And on the days we aren't worshipping the latest starlet, we are trying to look like her. Because (to state the obvious) celebrities always look flawless, but especially when it comes to their makeup.
We were curious as to what makes them so spectacular, what these beauties are doing that we aren't, and how much effort really goes into their appearances.
So, we went straight to the sources and talked to the prominent makeup artists who celebrities like Kim Kardashian and Jessica Chastain call their sidekicks.
Their perfection can almost seem unattainable, but these pros let us in on how it's done. The makeup artists who work with a-listers all day also had some refreshing news -- you're more like a celebrity than you think you are.
Everything you've wanted to know, from clear skin, to contouring, to how much makeup is actually going on celebrity women's faces, we got the inside scoop. And we had a ton of fun getting to know the incredible talent behind the world's most recognizable faces.
Here's the truth behind what it takes to make up an icon.
Editor's note: These interviews have been edited and condensed for clarity.
Fiona Stiles, The A-List Regular
Celeb Cred: Nikki Reed, Eva Mendez, Jessica Alba, Jessica Chastain, Kate Winslet, Kerry Washington, Zoe Saldana, Heidi Klum, Carine Roitfeld, Camilla Belle, Amy Adams... just to name a few.
On working with celebrity clients: Real women are much more particular about their looks. Actresses and models... their job is to be transformed and look like someone else. People can be particular, but real women are hesitant to break out of their routine. Whereas actresses are interested and are curious.
On celebrity make-up regimes: There's no retouching on the red carpet, so you have to get it right the first time. You have to be careful about foundation and finding the exact color. It can't be too luminous if the skin is oily. They have makeup on for hours. You have to consider skin type.
A lot of women don't use highlighter and don't contour. Those are two things that really make a difference in how you look in pictures and how you look in real life.
I use just a little bit of silvery highlighter so it gives me a wet look. And then I leave my cheekbones fairly unadorned. A little more gold tone to lighten the skin.
Contour powders are amazing as long as you find ones that are not too opaque, not heavily pigmented or like MAC contours -- they are really intense. You want something with sheerness.
On the TRUE amount of layers of product a celebrity wears: We tend to use a lot of product because we're going for effects. I might do contour and blush and it won't look like that [heavy].
It's about knowing how to shape someone's face to be the most flattering version. I don't like primer. I don't like what it does to foundation. Foundation, highlighter and contour. As long as skin looks beautiful, you're set.
I like moisturizer's evenness for foundation. From there, a light translucent powder. And then contour blush. It depends on the skin and how old they are. Primer separates the foundation.
Why you are more like a celebrity than you think: We all have the same issues; 100 percent everyone has a pimple and a sunburn!
On makeup versus airbrushing and retouching: It depends on the publication. There's a lot of retouching. When it's done well, you can't tell. It's like an Instagram filter.
They remove excess freckles and change the tone of skin. Same for models.
The look she is most proud of: I'm proud of my relationship with the client. If my client is happy, I'm happy. (Pauses to consider.) Nikki Reed at the final "Twilight" premiere.
On the time it takes to get a celebrity ready: It's about the same for both celebrities and average women. We tag team at the red carpet.
What would take me an hour is an hour and half because I'm working around the hair dresser.
If I'm getting a bride ready for her wedding, it takes three hours. She needs to go delegate, get up from the chair, come back.
Make-up trends she loves and hates: I love a strong brow or one you can't see anymore. They're always going to be timeless. I hate frosted lipstick. And very shimmery lip gloss.
On her celebrity rate: It's so varied. Some days you work for zero and some days you work for a rate.
In her make-up bag: Luminizer, Givenchy foundation, Serat and Rubis tweezers. I'm highbrow-lowbrow like MAC lipstick and Chanel rouge allure velvet.
My greatest experiences are going to drugstores in other countries or a pharmacy in Europe. I don't care if it's two dollars or 400. It's the thrill of the hunt, and new things that I love and are under-the-radar. That's why I started my site.
Where to get more Fiona and her coveted products: Reed Clarke, Fiona Stiles' tightly curated e-commerce beauty site that features her favorite product picks, insightful reviews and badass personality.
Girlfriend has the entire red carpet on speed dial -- we'll listen to anything she writes.
Carmindy, The True Beauty Pro
Media cred: "What Not To Wear" on TLC; author of "The 5 Minute Face," "Get Positively Beautiful," and "Crazy Busy Beautiful"; Self, Cosmopolitan, InStyle, Essence, Lucky, Seventeen, Marie Claire, Glamour... she's pretty much everywhere you want to be.
On the celebrity advantage: New technology. They are being given -- from beauty experts and makeup artists and professional hairdressers and dermatologists -- the newest technology. Besides lighting, foundation is the highest level of technology that hasn't been seen yet.
It's new extensions that only the top hair extension guru is doing at the moment. Tape extensions is a new one. New technology is why [celebrities] look a little bit better and more on top of their game.
I've been a make-up artist for over 25 years. Every company would send me products, but a lot of mainstream product lines aren't advancements.
For instance, with foundation, Italy is the place to go. I went to top manufacturers. I now sell the "Game Changer" foundation. As a professional makeup artist, we know about new technologies.
It's not that [celebrities] are any more special -- they have more access. It's cult things that I just found about on set. Secrets... you're privy to the cutting edge stuff.
On the differences between celebrities and the "real world" women: There are no differences. (Editor's note: Bless you, Carmindy!). Women think that these women have and look this way every day.
Celebrity women age and get broken capillaries and sunspots and everything else. They might have more access to get the treatments.
When I made my stand a few years ago, everyone was telling these women how to look like celebrities. I was telling them the same makeup tips and tricks for everybody.
I tell my ladies, Listen, if you all of a sudden decide not to be a housewife, and all of a sudden you're famous -- you're the celebrity. The only difference is that [celebrities] are recognizable.
On TV versus red carpet makeup: There's a difference with HDTV. Television makeup has changed. It used to be heavier like stage makeup, but with HD it's much lighter.
The way you wear makeup for daytime is like television these days. In terms of texture, you want to keep it sheer because it shows everything.
Red carpet is different. Lights are brighter, flashes are going on. It's heavier.
The REAL amount of time it takes to prep: It's the same amount of time [for celebrities and clients]: an hour. Getting ready for an event should be fun, not a stressful nightmare.
A look that Carmindy is most proud of:
I'm most proud of (her signature) 'Five Minute Face.' It's a whole cosmetic kit that took a lot of time and effort for what it is. I really studied it.
What makes a woman most beautiful is not looking like a celebrity or model. What makes her look at her peak, most desirable is when she's completely in love or aroused. Eyes are intense, skin is flushed and glowing and lips are engorged with blood.
The steps it takes to mimic celebrity makeup: It's all about the layering. That's what women get wrong. The order is what's going to keep you looking spectacular and fresh.
These makeup artists do not go to the event with the celebrity. Why do they look so great at end of night? It's applied properly through specific steps.
First and foremost: Face primer. Oily or dry, primer evens everything out. It smooths everything and creates the right canvas.
Second step: Apply foundation. Foundation instead of concealer first. This is the new way. You use less concealer. Foundation over concealer creates cakiness.
Use concealer while face is still moist. Then add a light layer of powder to set everything. Foundation on eyelids acts like a primer – it's just repackaged concealer.
Carmindize: It's my signature Carmindizing highlighter duo. On celebrities on camera it looks fantastic. I do it on every woman. This is the celebrity trick.
Highlighter powder or cream in a champagne color or shimmery pinky white. Apply underneath the eyebrow, on the inside corner of the eye, and on the top of your cheek bones. Those three key places. You get a totally amazing celebrity glow.
After that brows, eyes, lips. Those steps set the tone.
Make-up trends she loves and hates: Hate: Really, really dark, berry matte lipstick. Although it's sexy on a runway and an 18-year-old model, most women can't pull it off.
It makes their lips recede and looks harsh and older. Pink eyeshadow, too. It makes you look like you have the worst allergic reaction in the world. Like itchy.
Love: The fact that we're getting away from contouring and using highlighter instead is my dream and my mission. Lip crayons. I love lip crayons. You never have to use color lipliner.
Where to get more of the lovely Carmindy: For more of Carmindy's beauty tips, products and video tutorials, check out her incredible website. We watch her videos while getting ready!
Mario Dedivanovic, The Sought-After Icon
Celeb bestie: Kim Kardashian, 'nuff said.
On why you don't look like a celebrity when you leave your house: We use products to contour and highlight. We're defining features. I think most average women don't use that stuff the way a makeup artist uses on a client. Most celebrities wear false lashes.
How his clients always look beautifully flawless: With foundation and concealer. It's all about the technique. I use a foundation and a concealer and plant everything well using the beauty blender sponge. That's the key to get everything flawless -- blend everything really well.
On working with celebrities: I don't work that much with non-celebrity women. It's different because [celebrities] are so heavily photographed. Their needs are different. We work together with celebrity stylists and hairstylists. It's a team effort to come up with a look.
The amount of time it takes to get his clients looking glam: Twenty minutes to an hour.
What he loves about Kim's face (besides, like, everything): She is gorgeous. I do love her eyes.
Favorite products from Kim's line: I love the individual eyelashes they have. They are the perfect size and easy to apply. I love their honey lip glosses -- the nude colors are really pretty.
A look that Mario is most proud of (if you can choose just one...): Her wedding with Kanye West. It was a beautiful look, I really loved that one.
There's one that we both love from Miami, it was an event for the Superbowl a few years back. Also another was from Khloe's "Unbreakable" fragrance launch party in LA.
Make-up trends he loves and hates: I don't follow trends. If you want to go with trends, there are subtle ways to do it. I don't hate that much. I think all looks are pretty good depending on how it's done. (Editor's note: Did we mention how cool Mario is?)
In his make-up kit: My MAKE UP FOR EVER concealer, Shu Uemura lash curler, Orgasm blush by NARS, black smolder by MAC and beauty blender.
Where to get more Mario: Thank goodness for us fans, Mario is very active on Twitter and frequently posts his latest looks on Instagram. You can also browse through more of his work on his website.
Top Photo Credit: Getty Images/WENN