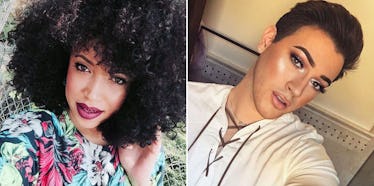 17 Beauty Vloggers Who Teach You To Embrace All Different Kinds Of Beauty
In an industry that's not exactly known for inclusion, the rise of the beauty vlogger is a welcome change.
On the commercial end, cosmetic companies have a tendency to disregard the fact not every consumer is a white lady with normal-to-dry skin.
From pricey disappointments to nonsense like L'Oreal's recent shade screwup, it's not hard to feel like the industry capitalizes on playing us.
But the online beauty space is making that more difficult by the second. Does a new shade range suck? YouTubers are all over it. Is the latest launch a total gimmick? They'll definitely let us know.
If you want to build the most well-rounded beauty subscription list in YouTube history, or you just want to find one guru who meets all of your needs, these influencers are here to help.
Here are 17 of the internet's best beauty vloggers:
1. Jackie Aina
No one — and I mean no one — makes me yell "YASSSS" loudly in public places more often than this queen.
Whether you want to choose the perfect foundation shade for your deep skin tone, you have to deal with oily skin or you just generally want to start living your best life, be sure to follow Jackie on all outlets.
2. Tati Westbrook
If you're a luxury beauty lover and you're not following her yet, WYD? This pretty lady uploads high-quality content on a daily basis, with her "WTF" and "OMG Tuesday" videos racking up millions of views each week.
Want to see what that $300 mask really does? Want to see if that $100 foundation is all it's cracked up to be? Check with Tati Westbrook first.
3. Cassie "Thrift Thick"
Sponsored content is a hot-button issue in the online beauty space, since it can sometimes lead to gurus doling out disingenuous reviews.
Fortunately for us, Cassie over at Thrift Thick has made it her mission to give 100 percent honest reviews, 100 percent of the time, no matter how a product comes into her life.
Plus, Cassie's your girl if you're a lover of thrift and vintage fashion.
4. PatrickStarrr
Most of us who follow YouTubers religiously are all about embracing that full-glam, cake-face life. PatrickStarrr is one of us, friends.
He also looks gender conformity in the face every day, flips his hair and says, "Screw all that." If you're a guy who's scared to dive in, let this stunner lead the way!
5. Jessica Haze
There are plenty of brown smokey eyelids fluttering back at us out there, but Jessica Haze offers up something different.
She has a punk aesthetic that's more runway and less Hot Topic, and her signature looks are anything but typical.
6. Mykie
If you're way more talented than I am and you have an affinity for special effects makeup, you need to follow Mykie, aka "Glam&Gore" right this second. I'll wait.
OK, you good?
Now that she's on your radar, this self-taught makeup artist is about to inject your life with the special effects knowledge you'll need to terrify everyone around you, which is always a reasonable goal to have.
7. MannyMUA
Much like Patrick, Manny sashays away from gender norms while rocking a nude lip and a sickening smokey eye (and drinking his daily boba in the process, probably). No one is worthy.
8. Tamira Jarrel
Minimalists, gather 'round. If you live the minimal life through and through, the aesthetic of Jarrel's videos alone is about to set your sleek heart aflutter.
Pair that with product roundups, tutorials and some of the most descriptive perfume reviews out there, and you have a recipe for clean-lined success.
9. Kathleen Fuentes
Dry-skinned ladies and gents probably know all too well that a flaky complexion doesn't lend itself nicely to makeup application. That's where Fuentes comes in.
Her makeup tutorials are great for everyone, but her in-depth product reviews are perfect for those who struggle with the same sensitive issues.
10. Huda Kattan
Are you as fascinated with beauty hacks as I am? Probably. That's one of about six million reasons you need Huda Kattan in your life.
If it's trending, it's money-saving and it's weird, she's tried it. Do turmeric masks and cotton eyelash extensions sound cool to you?
Same. Check her out.
11. Iris Beilin
This Afro-Latina goddess is funny, talented and always on-trend. In fact, if there's a new trend you're dying to master (Reverse smokey eye, anyone?), Beilin will give you the lowdown.
Oh, and she can do it in two languages.
12. Nicole Young
Why separate your love of makeup and manicures? This queen is as well-versed in OPI as she is in Jouer.
And if there's a new release, you'll hear about it (along with the rest of her hysterical stories) on YouTube and Snapchat.
13. Wayne Goss
If you want all of the technical know-how and none of the extra stuff (which is foreign to me, since "extra" is my default setting), Goss will never steer your wrong.
He'll tell you exactly how to pick the right brushes and snatch that nose contour into oblivion.
14. Katy DeGroot
Listen, I just want to tell you how much I love her. For those of you who like your beauty with a side of short-girl-friendly fashion, do yourself a favor and follow Katy DeGroot on every single platform.
Her dogs also make regular cameos on Snapchat. What more could you ask for? (Nothing, that's what.)
15. Desi Perkins
For those of you who want to get sucked into the beauty world so far that you never have to think about real life again, there's Queen Desi. Her Hollywood-worthy videos, makeup tutorials and lookbooks are perfect for when you want an immersive experience.
She's also BFFs with Queen Katy, and they allow us to bask in the glory of their collective slayage every day. #Blessed.
16. Taren Guy
For all things beauty and natural hair, Guy is your girl. She's gained a fabulous reputation for tackling every natural hair tip and trick in the book, and she's here to share her expertise.
And can we just talk about how beautiful she is? Please?
17. Wengie
Her entire feed is cool-girl heaven.
Not many gurus make the latest trends work on hooded eyelids, so for anyone struggling to get that wing too sharp for this earth on their hooded lids, Wengie's tutorials should be taken as gorgeous gospel.
If industry leaders aren't going to cater to everyone, we might as well hang out over here in YouTube land. They can let us know when they're ready to catch up.