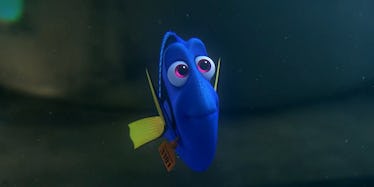 This Makeup Artist Transforming Herself Into Dory Is Mind-Blowing
Walt Disney Studios Motion Pictures
I used to think I was really good at makeup. I mean, I know how to make my wings even and how to keep my mascara from clumping. I also know my way around a contour palette, and I am relatively decent at strobing.
And then, people like YouTube beauty guru Chrisspy come around and remind me I don't know shit. Like, my winged liner looks like a baby playing with finger paints compared to her skills.
Oh, I didn't manage to get red lipstick on my teeth today? CHRISSPY IS LITERALLY A BRAND NEW SPECIES.
In the past, she has transformed herself into a werewolf…
A devil...
...and CleoCatra. KittyPatra. Cat-Patra. Something.
However, her most magical transformation has been into our favorite little blue fish, Dory.
Wait for it…
Wait for it…
WHAT?
WHERE DID SHE GO?
IS THERE A HUMAN UNDER THERE?
I'm seriously concerned for her, y'all. She just, like, vanished. Call Ariel because this chick got lost under the sea.
Hey, Chrisspy, mind teaching us how to speak whale?
Citations: Disney Finding Nemo Tutorial (YouTube)