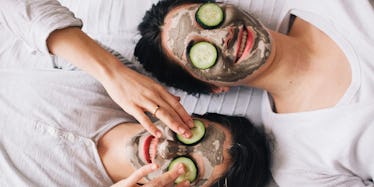 9 Beauty Products You Should Switch Up For Your Winter Skin Care Routine
Marija Mandic
Red Starbucks cups, flannels and gorgeous autumn leaves are some of the more pleasant ways that tell us winter is coming.
On the other hand, the not-so-pleasant ways include static everywhere, dry, itchy skin and runny noses.
Winter weather can really put stress on our skin and hair, which can end up affecting our mood. (SAD anyone?)
Once fall rolls around, we know to swap out sandals for boots and coral lip gloss for burgundy matte lipstick.
But, there are also things we can switch up in our beauty routines to avoid feeling like a dry, fluffy ghost for the next five months:
1. Switch: cleanser
Changing your regular cleanser to a cream cleanser is the first swap to make in your beauty routine during colder months.
Many gel and foaming cleansers, especially those for blemishes, contain drying ingredients (alcohol, benzoyl peroxide and salicylic acid). Look for a cream cleanser that contains glycerin, beeswax or any type of oil.
This goes for shower gels as well.
Burt's Bees Intense Hydration Cream Cleanser, $10, Dermstore 
2. Add: facial mist
This may seem excessive, but a moisturizing facial mist can make a world of difference before applying face lotion or makeup.
If your face is still feeling tight after cleansing, spritz on some facial mist to rehydrate the skin and prepare it for face cream, or use it any time throughout the day when skin is feeling dry.
Herbivore Botanicals Rosewater Facial Spray, $32, Sephora 
Glossier Face Mist, $18, Glossier 
Bonus: Giving your face a few spritzes after applying makeup will help it last longer, appear more natural and take away the "cake face" feeling.
3. Add: exfoliation
If you don't already, start exfoliating that bod to slough off dead skin cells and prep it for ultimate moisture absorption.
Look for products that contain polishing particles like sea salt and sugar. Or, you can opt for an exfoliating mitt to use with your favorite body wash.
And don't forget about the face! If physical exfoliants are too harsh for your face, try a gentle chemical exfoliant that will give you the same results without the irritation from scrubbing.
Soap and Glory Flake Away, $15, Ulta; Deep Exfoliating Mitt, $20, Amazon; REN Radiance Renewal Mask, $55, Sephora 
4. Switch: lightweight to thick moisturizer
The skin on our face will usually be the first to tell us when it's time to switch things up for the winter.
Another swap that will help keep you from drying up like a prune is exchanging your lightweight face lotion for a thick facial moisturizer to keep wrinkles and fine lines at bay, prevent dry patches and keep the skin feeling and looking youthful and plump.
Jason Revitalizing Vitamin E Cream, $10, Amazon 
Look for products that contain hyaluronic acid and glycerin.
And don't forget about the delicate skin around the eyes. If you haven't already, add a hydrating eye cream to protect those peepers.
FRESH Black Tea Age-Delay Eye Concentrate, $78, Sephora 
5. Switch: body lotion to body butter
Lightweight products are nice to use in the warmer months when slathering on a body butter can leave the skin feeling greasy.
But in the winter when moisture is sparse, switch your body lotion to a thick body butter to keep all your bits super soft and ready for a last-minute Netflix and chill session.
Kiehl's Milk & Honey Whipped Body Butter, $38-$48, Nordstrom 
6. Add: oils
In the warmer months, it's easy to avoid applying oils because the moisture in the air prevents skin from drying out.
But during the colder months when skin is desperately craving moisture, adding a layer of oil to the skin and hair can work wonders.
When your skin is dry, it creates excess sebum to compensate for the lack of moisture, which can lead to unwanted oily skin and clogged pores.
Keeping your sebaceous glands balanced by applying facial oil may help reduce the amount of oil your body needs to produce.
Use a light oil such as jojoba oil for already oily skin, and a heavier oil, such as coconut or almond oil, for dry skin.
Jojoba Oil, $8, Amazon; Extra Virgin Coconut Oil, $16, Amazon; Almond Oil, $13, Amazon 
But don't just stop at your face. You can apply oil like a body lotion immediately after a shower or wherever your skin is feeling dry.
For ultimate baby-butt-soft skin, apply body oil followed by lotion after a shower.
Not only does oil work great for the skin, but it also keeps frizzy hair at bay.
Static is one of the most annoying cold weather side effects, and it can make us look like we just stuck our hand in an electric socket.
To avoid Einstein hair, rub a small amount of oil from the mid-length to the ends of your hair while it's still damp, after heat styling or any time you feel like it's floating away. Just remember, a little goes a long way.
You can also create a homemade oil hair mask by combining your favorite oils and applying to the hair from root to tip.
Leave on for about 30 minutes, then shampoo and condition as usual for extra soft and supple hair.
7. Add: nasal spray
This may seem like an odd addition to a beauty routine, but trust me, it's worth it.
The dry weather doesn't only affect the skin, but it can dry up sinuses, too. Prevent nosebleeds and uncomfortable allergy symptoms with a natural nasal spray, an alternative to chemical decongestants.
Xlear Natural Nasal Spray, $12, Amazon 
8. Add: face mask
When you think of a face mask, you may think of a tightening clay mask that draws out impurities and leaves the skin feeling tight and clear.
While those masks are beneficial, a hydrating mask can bring your skin back to life and give it a major boost of glow power. Try a sheet mask or a replenishing mask in a pot.
GLAMGLOW Thirsty Mud Hydrating Treatment, $69, Sephora 
9. Add: self-tanner
The worst part of the winter may be the moment when we realize we can't see our tan lines anymore, and we become sad, pale spirits of summer's past.
Self-tanner is quite possibly the most genius invention that gives us an instant confidence boost during our pastiest moments.
A nice wash of color helps us look slimmer, healthier and keeps us from fading into the snowy background.
Some self-tanners work in as little as two hours, allowing plenty of time to perfect that cat eye and red lip before the holiday party madness ensues.
What are your favorite winter beauty products tips? Let us know in the comments below!