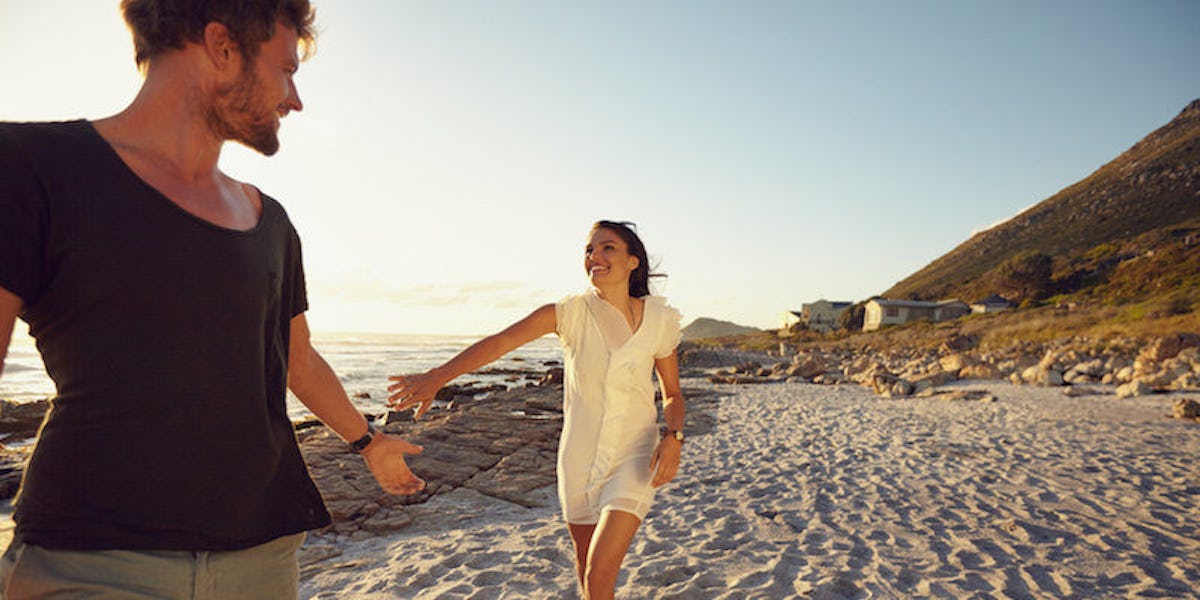 5 Beauty Buys That Will Make Your Summer Sweat Look Like A Healthy Glow
Summer is almost here which, for most of us, signals the beginning of three months of drinking (er, dining?) al fresco, beach days, sweaty subway rides and melting makeup.
As a product junkie, avid traveler and workout fanatic, I've tested hundreds of products in sweaty spin classes, humid climates and general on-the-go lifestyle for staying power and ease of use.
Through all this, I've landed on a list of essentials that even a makeup minimalist can get behind:
1. Cushion Foundation
Cushion foundations offer the ultimate portability and natural finish. They typically come with a sponge applicator and have a built-in mirror, making taxi touchups easy (and spill-proof).
The L'Oreal True Match Cushion Foundation is my favorite of the cushion formulas. Even though this foundation is on the pricey side for the drugstore, you really can't beat it without moving into the luxury brands.
L'Oreal Paris True Match Lumi Cushion Foundation, $11, Amazon
It's a buildable, lightweight formula, and since it's made by L'Oreal (the parent company of Lâncome and Urban Decay, among many others) I can't help but wonder if it's just the Urban Decay Naked Skin in cushion form, or the Lâncome Miracle Cushion in different packaging.
Urban Decay Naked Skin Liquid Makeup, $40, Sephora; Lâncome Miracle Cushion Liquid Compact Foundation, $50, Amazon
The only downsides to the L'Oreal Cushion are: limited shade range and no SPF. I prefer to layer SPF 50 under my foundation, but if you prefer SPF in your foundation, the Laneige BB Cushion might work for you.
Laneige BB Cushion, $30, Amazon
It's a medium to full coverage formula and comes with a refill cushion. The downside? It has an even more limited shade range. Most cushion foundations do a have a natural to dewey finish, so if you have oily skin, keep a powder in your bag (but really, even those of us with dry skin need powder in the summer).
2. Powder
Setting your foundation with powder is more or less the only way to keep it on your face and control shine in hot, humid climates. Press a light application of powder into your face using the puff in the packaging, or a fluffy powder brush. Swirling the brush over your face will cause the foundation underneath to move around and cake up, which is not a cute look on anyone.
If you don't usually use powder, try setting just the t-zone (forehead, nose and chin), since that area tends to produce the most sweat and oil throughout the day. If you have oily skin, well, you know the drill; powder often and all over.
I like the BareMinerals Touch Up Veil in Translucent for its silky formula and SPF boost, but use the Maybelline Fit Me (try the Matte and Poreless version if you're oily) powder to avoid flashback in flash photos (selfies included).
BareMinerals Ready Touch Up Veil, $14, Amazon; Maybelline Fit Me Powder, $6, Amazon; 
3. Luminous Blush
A luminous blush is the minimalist answer to, "How do I get a glowy look without 10 million products and a makeup artist?" You won't be rocking a J-Lo glow, but the pearlized pigments swirled into the blush color will leave your cheeks with a youthful radiance.
Keep in mind that unless you plan to blot and powder religiously, you'll probably develop your own "dewiness," so the luminous blush approach may be a better alternative to a full on bronzy glow. It's also way easier (and way cheaper).
My absolute favorite luminous blush costs a pretty penny and is absolutely worth it. Becca Cosmetics knows a thing or two about the ultimate glow (Champagne Pop, anyone?), and they released a new line of blushes with their Shimmering Skin Perfectors swirled in.
BECCA Cosmetics Shimmering Skin Perfector Luminous Blush, $34, Sephora; BECCA Cosmetics Shimmering Skin Perfector, $37, Amazon
I splurged on the Tigerlily shade because it's one I know I'll wear year-round (and let's be real, I own more makeup than clothes). If you're looking for a more affordable option, Milani's Baked Blushes are a beauty vlogger favorite. Just pick a shade that doesn't have glitter chunks swirled in to ensure a sophisticated, and not teeny bopper, look.
Milani Baked Blush, $7, Amazon
4. Setting Spray
If you watch beauty videos on Instagram or YouTube, you've no doubt seen a beauty guru spritzing her face with some kind of spray at the beginning and/or end of the video. Not all sprays are created equal. Some are designed to hydrate the skin, others are primers and beyond that, there are numerous types of sprays designed to finish the makeup and help prolong its wear time. You want the latter type of spray for the summer months.
Urban Decay's All Nighter Setting Spray got me through a summer of outdoor weddings and kept my makeup looking fresh until I woke up the next morning. Yes, I know that's really bad for my skin, but sh*t happens. Spray this on top of your freshly powdered face to help the powders melt into your skin. Just do it before your mascara or you could end up with raccoon eyes. I like the travel size of this product because I really only use it for special occasions during the summer months, but full size options are available too. If you're more oily, give the De-Slick formula a try.
Urban Decay All Nighter Setting Spray, $31, Sephora; Urban Decay De-Slick Makeup Setting Spray., $31, Sephora
5. Long Wearing Eyeliner
Even the best of eyeshadows can crease in humid weather, so in these climates it can be better so skip the shadow and go a littler more bold with your liner. There's a formula for everyone, and my favorites are all under $10.
The NYX Matte Black Liquid Liner is the most beginner-friendly liquid foundation on the market, and it does.not.budge. The brush applicator is soft enough to control but stiff enough that it never feels our of control. Hold the tip of the applicator to your lash line and use light pressure for a thin line. Or, lay the brush horizontal and flat to your lash line with heavier pressure for a thicker line. Bonus points for a wing.
NYX Matte Black Liquid Liner, $6, Amazon
The formula sets quickly and didn't drip into my eyes during spin, or come off on the towel when I wiped my sweaty face. If you prefer a gel formula, the Maybelline Eye Studio Lasting Drama Gel Liner also has killer pigmentation and staying powder, but you need to carry an extra tool to apply it.
Prefer a pencil? Go with ColourPop's Creme Gel Liner sticks. They are self-sharpening and last all day, even on the waterline. They also have the best color selection, so you can keep your look exciting by adding a pop of color to your lower lash line.
Maybelline Eye Studio Lasting Drama Gel Liner, $9, Amazon; ColourPop Creme Gel Liner, $6-16, Amazon