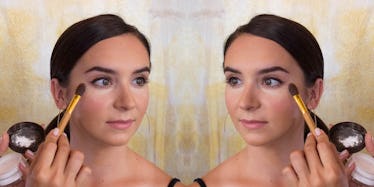 'Baking' Is The New Way To Brighten Your Face And Here's How To Do It
In the age of the iPhone, looking photogenic all the time is almost a necessity. As such, it's important to mentally prepare a makeup look or two that works for even the most intense days.
Scrolling through Instagram, you've probably noticed all your favorite celebs somehow seem to have this photo-ready thing on lock.
Well, on one hand, ladies like Beyoncé and Kim K have entire teams dedicated to tweezing their eyebrows. On the other, they're also using a time-tested technique called "baking" that's recently seen a flux of popularity among beauty vloggers and social media makeup artists.
Thanks to full-coverage concealer and powder, the method uses the heat of your delicate facial skin to "cook" the makeup. The result is incredibly bright, poreless-seeming highlights.
In hopes of breaking down the technique, we called in Tarte Cosmetics' Senior Pro Artist Maria Jones to give us the run down. While Jones doesn't recommend the look for everyday life, it's a unique finishing touch for occasions when you need to be camera-ready.
Just a few easy steps, and you'll see a whole new look.
Maracuja C-brighter Eye Treatment, $36, Tarte; Maracuja Creaseless Concealer, $26, Tarte; Smooth Operator Amazonian Clay Finishing Powder, $33, Tarte
First, prep your pores with a moisturizing treatment.
When preparing to use heavy powder, it's important to focus on properly hydrating your skin -- a strategy that'll keep you from looking like a dried-out mummy later.
Jones starts with an application of Tarte's Maracuja C-brighter™ Eye Treatment, to breathe a little life into the dark under eye area. Tap on the cream with your ring finger, being sure not to pull at the skin.
Cover up those circles with concealer.
If bags under the eyes are the least favorite part of your face, you're about to be very pleased. Baking greatly evens out the textured skin that can be so difficult to blend in with the rest of your face.
Jones' next step is to apply a creamy concealer to the dark areas with a densely packed, medium-sized brush, creating a shape similar to the Nike swoosh. She stands by Tarte's Maracuja Creaseless Concealer, which boasts a whopping 20,000 likes from Sephora customers.
Make like Martha Stewart and bake.
Here's the part where you'll really start to feel like a celebrity. When it comes to the makeup chair, you have to wonder: What exactly do famous women do to pass the time while being primped?
In your case, you'll be a little busier than the average reality TV star. Follow Jones' example, using a powder brush to press on two layers of powder over the previously applied concealer. Seen here: Smooth Operator Amazonian Clay Tinted Pressed Finishing Powder, which soften skins with Vitamins A and E.
Now, set a phone timer for ten minutes and wait while the powder "cooks" the concealer. It's enough time to snap a mid-way selfie if you're into that.
Sweep (and shake) it off.
Using a quick hand and a little speed, use the powder brush to sweep the excess powder off your face and away from your nose. If you're heading in front of the camera, leave the look as is. But if you're angling for something a bit more natural, make small circles with the brush to blend in any residual loose powder.
Ready to see the new, upgraded you? We are, too.