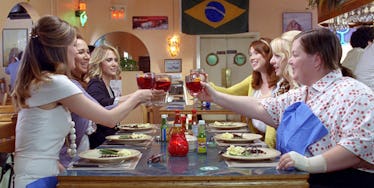 6 Ways Bachelorette Weekends Suck So Much More Than Bachelor Parties
Universal Pictures
In recent years, bachelor and bachelorette parties have evolved from "one last crazy night out" to four-day long, destination escapades. Most people can see the logic in moving the party further away from the wedding, given our binge-drinking culture. Also, with so many friends spread out throughout the country who want to participate, why not choose a place that's convenient for everyone?
However, these changes to the protocol of a final fling weekend have had radically different effects on bachelor parties and bachelorette parties. Honestly, every girl feels a certain amount of dread when she gets that, "Ladies, let's make this the most special weekend for the bride-to-be" email.
Here are the reasons why:
The Planning Process
Bachelor Parties: The best man puts everything together a few months in advance. There are maybe 10 emails that go out during the planning process.
Bachelorette Parties: There are too many intricacies for one person to plan. So, various aspects of the weekend are delegated out by the maid of honor. There may be an actual "bachelorette planning brunch" (which in and of itself obviously requires one week of planning).
Inevitably, one person will seriously drop the ball or make some uncouth decision that is unacceptable to several guests, at least three of whom will have dietary restrictions. Resentment has already begun to build. Any number between 30 and 50 exclamation-point-filled emails get sent, and it all starts six months in advance.
The First Day You Arrive
Bachelor Parties: The dudes go to a casual dinner and find somewhere to drink until everyone has arrived.
Bachelorette Parties: Prepare for lots of squealing noises and hugs. This is what happens when girls haven't seen each other in several months.
A hashtag must be created. Everyone insists this will be "the best weekend ever." The bride's room will be decorated with balloons, glitter and (possibly) penises.
Something will be wrong with the accommodations. They may not be clean enough, or the power play of choosing bedmates leaves someone feeling jilted. But since it's the first day, everyone will move on quickly.
Bachelorette gift bags will be handed out and champagne will be popped. Maybe some of you will hit the bars. But it won't be too crazy because getting ready to go out takes approximately seven hours. Also, everyone wants to get to bed early because of the big day the next day.
Morning Meal, Day Two
Bachelor Parties: The dudes emerge from their rooms sometime around noon, and go seek some greasy food for breakfast.
Bachelorette Parties: The ladies wake up early to head to an 11 am brunch at a darling spot that got great reviews on Yelp. But it doesn't have the best reviews, since the place that did was already booked by the time Becky-who-dropped-the-ball tried to make reservations.
Half of the party will arrive at 11:10 am to hold the table, and the other half will arrive at 11:40 am because they were "getting ready." There will be lots of mimosas, but the food will take forever to arrive. Because of the whole group getting hangry, someone will take someone else's comment the wrong way.
Silence will fall over the table. These two girls will avoid speaking for the rest of the weekend.
Afternoon Activities, Day Two
Bachelor Parties: After a refractory period to digest the grease, the guys will participate in a bar crawl or some kind of outdoor activity. Or if they're in Vegas and feeling fancy, they'll go to a day club.
Bachelorette Parties: The only two activity options for a bachelorette are wine tastings or mani-pedis (with wine). There will be some sort of walking tour.
One girl – f*cking Becky – will get too drunk and have to go back to the hotel to lie down. Everyone will comment on this. The two girls who stopped speaking at brunch will covertly try to win other members of the bachelorette party onto one side or another.
Then, it's time for fun and games. The ladies will reconvene in the bridal suite before dinner to either have a lingerie shower or play bachelorette games. A lingerie shower is where everyone is given the bachelorette's bra and panty sizes, and each person buys something her future husband will enjoy seeing her in before they have sex.
These concepts are extremely uncomfortable for all parties involved. Bachelorette games usually involve penises, temporary tattoos, a survey filled out by the bachelor beforehand (which took five reminders to get in time) and alcohol.
Evening Activities, Day Two
Bachelor Parties: The guys will allow some time (say 90 minutes) to shower and get ready before they head out to (almost certainly) a steak dinner. Afterward, they will go drink (possibly with bottle service) and awkwardly hit on girls. There is a 60 percent chance of strippers.
Bachelorette Parties: Despite allowing three hours to get ready for dinner, the previous meal situation will be repeated. Some of the group will arrive to hold the table and complain about the others, who will arrive at least 30 minutes later due to a curling iron situation.
The former group won't understand how it could possibly take so long to put on a dress, while the latter group won't get why everyone is giving it death stares when reservations are more of a concept than a set time. At least one of the people with dietary restrictions will silently seethe that her needs were not accommodated, and at least one other person will complain about the cost.
Post-dinner, the ladies will head to a bar or club. (There will be zero problems getting into said clubs, which is the one bonus of a bachelorette party.)
The bride-to-be will wear some kind of crown or sash, which will not stay on for more than an hour. The two factions from the brunch debacle, who are now drunk, will drop snippy comments until the bride-to-be steps in.
A third of the party will head back to the hotel early. There is an 80 percent chance someone will cry, and a 90 percent chance someone will throw up. Hopefully, this will happen back at the hotel, as opposed to a bar bathroom.
The Departure, Day Three
Bachelor Parties: As they are extremely hungover, the dudes find some greasy food for breakfast before they head off to their flights. There are some hugs and back-slapping as they part, and they're thankful for the quality time they got to spend together.
Bachelorette Parties: There is probably a brunch planned. But mostly everyone will skip it due to a combination of being hungover and wanting to get the f*ck back home. While overall, everyone had fun – and tentative truces were made to avoid wedding awkwardness – each girl can't wait to get back to her own bed and bitch about the weekend's events to her significant other or BFF.