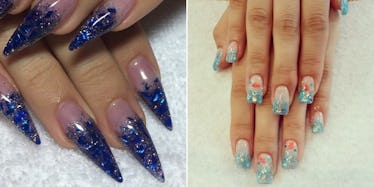 Women Are Getting 'Aqua Tips' To Turn Their Nails Into Mini Aquariums (Photos)
Instagram
Mermaids are definitely having a moment.
Between luscious, aqua locks and ocean-inspired styles, it seems like everyone is trying to look like a seductive siren of the sea these days.
But if you're not ready to take the plunge and commit to dyeing your hair a siren-esque shade of blue, you'll be glad to know there's a new way to bring the beach to your beauty regimen: aquarium nails.
Aquarium nails, or "aqua tips," aren't your ordinary, two-dimensional manicures.
These outrageous, nautical nails bring the depths of the ocean right to your digits.
Yep, concealed beneath the surface of these nails, you'll find small capsules that can actually be filled with liquids like water or baby oil to make little gems and glitter float around inside of them.
In a way, these things are kind of like having mini snow globes stuffed inside your mani, and trust me, staring at the flowing designs on your fingers is just as hypnotizing.
Whether you looking to fill you nails with whirling water, tiny shells, sparkles or colored sand, these marine manicures are pretty much guaranteed to blow every other type of nail art out of the water.
Take a look at the pictures below to see this amazing nail art trend.
If you thought mermaid hair was the only way to step up your sea-inspired style...
You clearly haven't seen the latest thing making a splash in the beauty scene.
Aquarium nails aka "aqua tips" are now a real thing...
And they might just be the coolest f*cking thing that's ever happened to fake nails.
Lately, lots of beach babes have been getting in on this on this nautical new trend...
By rocking manis that let them have the ocean right at their fingertips.
So, what hell are aqua tips exactly?
Well, they're certainly not your boring old, two-dimensional nails, that's for sure.
Aqua tips contain small capsules you can fill with liquids like water or baby oil...
To make little gems, shapes or glitter float around inside of your nails.
It's almost like a snow globe, or those cool pens filled with water and sparkles you totally loved in third grade.
Except this is even better because it's right on your hands.
Thanks to these mesmerizing, marine manicures, you can take your digits to new depths...
By trapping the tide within your talons.
Unleash your inner siren of the sea with some shiny shells...
Or flash a few fish right on your fingernails.
There are so many way to get in on this trend, so the mermaid mani possibilities are pretty much endless.