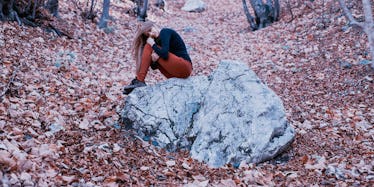 This Shoe Line Adds Hydraulic Springs To High Heels To Put Some Pep In Your Step (Photos)
Stocksy
Fashion can get a little crazy sometimes, but the Kinetic Traces collection by Silvia Fado Moreno, graduate of the London College of Fashion, combines crazy with, um, hydraulic springs.
Moreno has developed a new line of shoe wear that aims to create extreme comfort and wearability using the magic of technology.
To create these new heels, Moreno took a close look at impact absorption. She studied traction, durability and shoe weight, and then added rubber balls and springs to familiar styles of heel.
Moreno told Dezeen,
This project brings sports footwear fundamentals to high-end fashion as sports footwear are based on function and wearability, both very important elements for design features that must interact with the body and be usable by the wearer.
She crafted the shoes with a combination of metal, leather and wood-work, taking advantage of the latest techniques in 3D printing and milling as well as in laser cutting.
Comfortable? Sure. Do I need to be a robot to pull them off? Probably.
H/T: Dezeen, Photos Courtesy: Silvia Fado