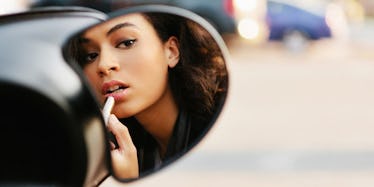 The Real Reason Your Annoying Chin Acne Just Keeps Coming Back
My breakouts are unpredictable.
Some days, my scarf is my skin's worst enemy. On others, eating spicy chicken tacos causes pimples.
One thing I do understand, however, is chin acne. Every time I feel a new bump surfacing on my chin, I know my hormones are out of whack.
A pimple farm operating on your chin or jawline is often connected to your diet and ability to manage stress. Acne in that area also signifies that you need more sleep, and should probably utilize your fitness membership instead of letting it go to waste.
Both sleep and exercise promote blood circulation, which helps keeps your skin glowing.
Knowing how to treat your chin acne takes discipline. Here's your refresher course on what to do when your jawline fights back.
Protect your chin at all costs.
Acne sufferers can agree: Almost anything can aggravate your breakouts.
Outside of wearing a helmet, do everything in your power not to bother your chin skin. That includes dodging your boyfriend's prickly beard hair during make-out sessions and keeping your greasy iPhone screen at a distance.
Surprisingly, even the fluoride in your tube of toothpaste can result in painful zits.
Hold off on introducing your chin to anything other than acne-soothing products until you learn how to manage your chin breakouts.
Cut back on ice cream and pizza.
Milk and greasy foods are your chin's number one enemy.
According to dermatologist Dr. Michael Shapiro, chin acne is linked to your small intestine. He tells YouBeauty, "One should stay away from dairy products and oily meals" in order to avoid an army of pimples appearing uninvited.
To keep your diet in check, incorporate lots of fiber, fruits and vegetables into most meals. High concentrations of vitamin A and antioxidants help prevent acne by "drying excess oil and reducing inflammation."
It's OK to occasionally indulge in those drunken late nights, just don't grab a slice of pizza before you zonk out every night.
Try products that do double duty on your skin.
The science behind acne-clearing products is complicated, but don't turn shopping for products into a chemistry course.
The main ingredients you need in your acne gels, masks and washes are AHA (alpha hydroxy acid) and BHA (beta hydroxy acid), the top two acne-fighting ingredients.
You've probably heard of the more common name, salicylic acid (BHA), which loosens dirt and bacteria to unclog pores. It's BFF, Glycolic acid (AHA), helps increase cell turnover to prevent fewer clogs.
Try Peter Thomas Roth Beta Hydroxy Acid 2% Acne Wash and AHA/BHA Acne Clearing Gel to clean up your chin acne.
Using this double-duty treatment will soothe your inflamed spots and rid your skin of the bacteria that causes pesky breakouts.
Peter Thomas Roth Beta Hydroxy Acid 2% Acne Wash, $30, Amazon; Peter Thomas Roth AHA/BHA Acne Clearing Gel, $30, Amazon
Or, whip up a perfect DIY concoction.
I love trying luxury products, but I'm a firm believer that most of the stuff we buy on shelves can be made at home. Who wants to shell out $100 for two tiny bottles you're not sure will actually cure your pimples?
Honey is a less expensive starting point. Use your fingers to apply raw honey directly to your pimples and the surrounding skin. The sticky sap is a natural antiseptic, zapping acne-causing ick.
Spend 30 minutes watching an episode of "Broad City" while you let it sit. Then, rinse off with warm water.
Next, use apple cider vinegar as a gentle exfoliant, mixing one part apple cider vinegar and three parts filtered water in a bowl. Dip a cotton ball into the mixture and apply it directly to your blemishes.
The vinegar balances the pH of your skin and helps prevent further clogging.
I'm no expert on curing adult acne, let alone the pimples localized to your chin. But I know the struggle and how frustrating it can be. Handling each breakout with specialized care will refresh your skin -- not to mention making facing the world less painful.