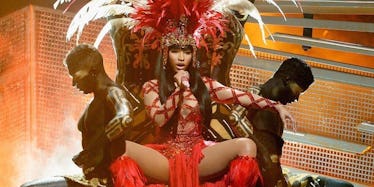 The Likes Of Nicki Minaj: 6 Things To Know About 'Trini Dem Girls'
Trinidad and Tobago-born hip-hop queen Nicki Minaj opened the 2015 MTV VMAs with her sure-hit "Trini Dem Girls (feat. LunchMoney Lewis)."
But, this wasn't the first time Trini girls have been mentioned by name onstage.
What is it specifically that makes them so damn alluring? If you've never met a Trinidadian girl, or if you're unfamiliar with our particular brand of island-girl swagger, here are some things to know from a born-and-raised Trini woman:
1. We will call you out.
As clearly demonstrated by Nicki Minaj herself, who blatantly called out Miley Cyrus while onstage about some comments Cyrus made in an interview, Trini women have little patience for bullsh*t.
They're not afraid to clear the air anytime, anywhere.
Minaj probably grew up with the kind of mother who would check her in public. West Indian moms are known for their open disciplinary methods, which, might I add from personal experience, are quite effective.
So, we have no qualms about calling out others in public. You better check yourself before we embarrass you in front of everyone.
2. We own the wine.
"Dem a wine up dem waist." Huh? To understand those lyrics, you must understand the real value of "the wine."
Trinidadian women are known for pretty much perfecting "the wine," a key component when dancing to soca, dancehall or reggae music. We have a very distinct way of rotating our hips and rolling our derrières, which some may consider an art form.
We can go down low (a great, fun way to get your squat workout in), and we can bring it back up, wine to the side and pon de floor just about any which way the music moves us.
It's a skill we're born with.
3. We're known for our beauty.
Latin America is widely known for its beauty ideals. (Brazilian women may come to mind.)
But Trinidadian women? They are so uniquely and originally good-looking, you can easily spot them from a mile away. Maybe it's all the wining, or the fact that almost a third of our population is ethnically mixed, but Trini women are known far and wide for their breathtaking natural features.
We've even won the Miss Universe and Miss World titles a couple times. Men lose their damn minds when they visit this island, and nobody can blame them.
The Caribbean is overflowing with beauty, and its women are no exception.
4. We're very talented (obviously).
Trinbagonians are very creative people, excelling in areas of music (like, duh, Nicki Minaj) and fashion (like "Project Runway" season nine winner Anya Ayoung-Chee).
Trini girls are creators and performers; our culture is deeply rooted in the arts, from our soca music to our gorgeous carnival costumes and our invention of the steelpan.
So, it's no surprise our women are regularly recognized all around the world for their talent. (Not bad for a country with only 1.3 million people on both islands.)
5. We're smart.
Trinidad is one of few Latin American countries that provides subsidized (read: almost free) tertiary education to its citizens. The student loan debt crisis is not exactly something we can identify with, although our economy is far from perfect.
When it comes to education, girls generally outperform boys, and at college, they out-enroll them, too. So, it's no surprise we've also produced amazing professional women in fields like marine biology and law.
6. We're successful.
Hailing from a small island, we know it takes more than talent and education to earn the props we deserve. Luckily, we also come from a culture of strong matriarchies.
Trini women are fiercely motivated. Trinidad and Tobago wad one of a handful of Caribbean countries to elect its first female prime minister in 2010. In Trinidad, de girl dem ah run tings.
No matter where you're from, it's no secret all women can be all of these things and much, much more. Trini women just do it a little differently.
The bottom line? You probably don't want to f*ck with us. We go hard, or we don't bother to leave our sweet island home in the first place.