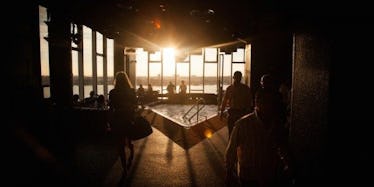 5 Life Lessons Every 20-Something Girl Can Take From Oprah Winfrey On Her 60th Birthday
Stock
We don't need to tell you that Oprah is a truly remarkable woman. The newly turned sexagenarian has a trademarked just-about-everything and wields more power than most world leaders. And to think that she did all this while batting as the underdog is even more inspiring.
Maybe, um, we could dominate the world together, while wearing Spanx and staying up late, talking about how much we hate people who lie on our shows? And Stedman. We'd gab about him, too.
Let's just cut to the chase: here's to you, Oprah -- the pinnacle of strong, sexy female -- on your birthday. (In her voice of course: HAAAAPPPPY BBIIIIRRTTHHDDAAY!!)
1. Work with what you got
No, we're not talking about Oprah's natural curves or afro. We're talking about the fact that Oprah's real name is not actually Oprah, it's -- hold on to your seats, people – Orpah.
The talk-show queen was named after the biblical figure in the Book of Ruth, but people commonly mispronounced it, and now her name is Oprah. And she f*cking owns it like a Boss because you best believe that no one will ever be named Oprah now -- it's like naming your kid Jesus.
2. Never underestimate yourself; you can do it
Despite experiencing a traumatic childhood that included severe poverty and sexual abuse, Oprah The Great (for real, though, can we start calling her that?) built her empire to become the first African American woman named to the Forbes list of billionaires.
This also makes Oprah the ultimate "started from the bottom now we here" story. Basically, if there's an award, Oprah deserves to win it.
3. Use your voice for good, not evil
If there's one woman to surpass Beyoncé's power, it's our couch-loving gal, Oprah. Her ability to sway public opinion even has a special, fancy name that incorporates her own name (this is how you know you've really made it), called "The Oprah Effect."
She has become so influential that she helped get the 1993 National Child Protection Act passed by President Bill Clinton. And guess what people now call that bill? The Oprah Bill (no relation to Clinton).
4. Give back and if you can make the world a better place, take that opportunity
Oprah's received enough awards for her humanitarian efforts to pass out to an entire talk-show audience. She's given away a staggering $400 million and counting to charitable causes -- most notable among them being her South African school, the Oprah Winfrey Leadership Academy for Girls.
And last year, she donated $12 million to the Smithsonian's National Museum of African American History and Culture. Too bad she doesn't have kids or they totally would have gotten into any college with that kind of endowment.
5. Don't be afraid to go there
One of the reasons we love Oprah so much is that she's a real and strong personality with spunk and a confident point-of-view. She doesn't cower when it comes to tough questions and she's honest about her own struggles.
And she still remains well-liked, ages gracefully, and has already accomplished more in her lifetime than what's normally thought possible. Happy 60th birthday, you balla, you. And maybe let's be besties?